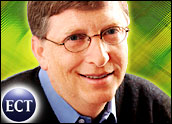 Microsoft (Nasdaq: MSFT) announced Thursday that it has signed contracts with three interactive TV companies as part of its bid to develop the world of television-based e-commerce.
The Redmond, Washington-based software behemoth said it will work with the companies — ACTV, eCity, and RespondTV — to develop a range of so-called t-commerce application and interactive advertising applications for the Microsoft TV platform.
Microsoft's announcement came a day after America Online (AOL) announced its own interactive TV deal with several media companies to provide content for its heavily touted interactive television set-top box. Both announcements were made at the Los Angeles-based Western Cable Show.
Ad Studies Planned
As part of the deals, Microsoft said it plans to conduct trials to gather real-world data on how these applications can boost revenues for cable network operators.
According to the company, the applications will diversify the ways that cable network operators can offer personalized advertising.Ad content could be customized based on subscriber preferences and range from "highly targeted" commercials to "somewhat-targeted" banner ads.
"These agreements demonstrate the benefits of our efforts to create a rich TV platform for software developers, enabling highly profitable new TV applications that cable network operators can easily deploy," Microsoft TV vice president of sales and marketing Alan Yates said.
The Future of Interactive TV
Preliminary analysis has indicated that interactive TV will have a bright future. A report released in July by Forrester Research predicted that interactive TV devices will generate US$47 million in revenue by 2005.
Forrester said that the revenue will come from three revenue streams: $7 billion in subscriptions, $17 billion in marketing fees and advertising, and $23 billion in commerce.
Advertisers that have already taken the plunge into interactive TV include Coca-Cola, which signed a deal with RespondTV last week to run a commercial that will let viewers with a set-top box click an on-screen icon with a remote and receive a free toy bear.
Forrester predicted that by the end of the year, 34 million U.S. households will use interactive program guides (IPGs), five million will interact with programs and commercials on systems like Wink, and 750,000 will record programming on personal video recorders (PVRs) like TiVo. By 2005, 87 million households will have IPG capability, 65 million will have systems that can interact with video, and 53 million will have PVR users, Forrester said.
Channel Surfing
In addition to the t-commerce deal, ACTV and Microsoft announced a "broad alliance" to integrate ACTV technology with Microsoft TV. ACTV also has deals with TBS Superstation and Sportvision to incorporate interactive features into selected programming.
Microsoft said that it will work with eCity, which is based in Amsterdam and San Francisco, California, to develop permission-based, targeted-delivery TV advertisements for Microsoft TV.