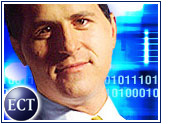 Michael Dell will relinquish the title of CEO at the company he founded in a dormitory room 20 years ago but will remain actively involved in day-to-day operations as chairman of the board, Dell Computer announced Thursday.
Longtime executive Kevin Rollins, who joined Dell full-time seven years ago, will take over as CEO. The company said the changes will take effect when Dell holds its annual shareholder meeting in mid-July.
Round Rock, Texas-based Dell said the change will not represent a major shift in day-to-day operations at Dell, since the two men essentially have been co-executives at the helm of one of the fastest-growing companies in the tech space.
Box Built for Two
Going forward, Michael Dell will continue to provide input on such matters as technology and customer preference, while Rollins will handle company strategy on such matters as back-end organization, as he already does in his current roles as president and COO. Dell will remain "deeply involved" in daily operations, a statement from the company said.
Close watchers of the company said the move had been expected, even though Dell, who founded the company by assembling and selling computers out of his University of Texas dorm room, just turned 39 last month.
The move had little immediate impact on Dell's stock, which was trading lower by less than 1 percent, at US$32.87, an hour after the announcement.
Trend Lines
With the move, Dell likely scored points with corporate governance watchdogs, who have complained that too much centralized power led to some of the high-profile business scandals that are still playing out in courtrooms across the United States.
By splitting the CEO and chairman roles, the company displaysa sense of checks and balances while also keeping its visionary founder in the loop, IDC analyst Roger Kay said.
"Recent history would suggest some harmony between them, given what the company has done," Kay told the E-Commerce Times. For instance, Dell saw PC sales grow nearly 20 percent in the fourth quarter but has been able to boost profits even when growth was not as robust. "Rollins has overseen the growth of the operation, which is one of Dell's best assets."
In fact, Dell's move came on the same day that the Walt Disney Company's board of directors voted to strip embattled executive Michael Eisner of his chairmanship, though he will remain CEO.
Michael Dell also follows the lead of several of his technology industry counterparts, including Microsoft co-founder Bill Gates, who handed the CEO reins to Steve Ballmer in 2000, and Larry Ellison, who recently relinquished his chairman-of-the-board role at Oracle.
Hale Fellow
Rollins likely will be well received by Dell shareholders and customers, given that his tenure at Dell coincides with the company's explosive growth. Rollins joined Dell in 1997 from Bain Consulting, which had been working with Dell for some time and had helped shape the company that is lauded for its operational efficiency today.
When Rollins came aboard, Dell was a relative upstart in the PC business, but since then it has roared past a host of competitors, such as Gateway, and stands poised to challenge longtime industry leaders Hewlett-Packard and IBM.
In the past year, Dell, while solidifying its position as a top computer seller and retailer of servers, also has made a foray into home electronics. However, while IBM has laid out an ambitious plan for transforming the way it delivers enterprise computing power with its on-demand crusade, Dell has not laid out such a plan and has not made the effort that rival HP has to become a major player in the outsourcing and IT consulting fields.
Rollins, who will retain his title of president, also will be nominated for a seat on Dell's board, replacing retired executive Mort Topfer, who has decided to step down.