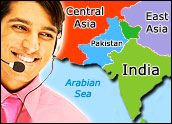 In a move that could dampen the tech sector's unbridled enthusiasm for low-cost outsourcing, Dell said it would stop routing some customer-support requests to call centers in India after customers complained about the quality of service.
Dell said it had received some complaints about the technical support through the overseas support center, with one executive saying that customers reacted unfavorably to the fact that Dell had changed how it handled those calls.
Newspapers located near Dell's Austin, Texas headquarters reported that customers were complaining not only about having their calls answered by technical support staff who spoke with accents but also about receiving scripted responses to their questions rather than one-on-one support.
Dell's own online user forum is rife with recent complaints about attempts to reach Dell for technical and nontechnical customer support.
Back Home
Tech support calls from customers with Optiplex desktop and Latitude notebook computers will now be handled from existing call centers in Texas, Idaho and Tennessee, the company said.
The affected products are sold largely to business customers. Dell said its call center in Bangalore, India would remain fully staffed, with some consumer calls still being handled overseas.
Dell is just one of dozens of companies that have used offshore call centers as a way to boost business performance by reducing the cost of customer support. The practice, along with outsourcing more technical jobs — such as software engineering — has come under fire from some U.S. workers' groups.
Reason for Concern
Analysts said that the Dell example might give some companies pause, especially given the extremely competitive nature of the personal computer market in which strong customer service can distinguish one company from another.
"There's only so much price competition that can happen," Yankee Group analyst Andrew Efstathiou told the E-Commerce Times. In the case of computer sales especially, "the customer is also looking for the overall value and if there's a sense that's being eroded by a lower level of service, that's a concern."
Still, he said, the trend toward outsourcing is likely to continue and efforts in India and other overseas locations are already underway to address the concerns of U.S. customers to make them feel more comfortable with the support they're receiving.
"Long-term, the economics make it something companies will have to do in order to compete," Efstathiou added.
Complaints Aplenty
Customers on Dell's bulletin board raised several complaints. "How do I know my credit card information is safe in India?" one customer asked. "Dell really needs to do something about this."
Wrote another: "Because Dell has fired its American support folks and outsourced the deal to India, the entire concept of customer service is compromised."