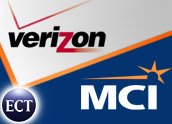 Shareholders of long distance provider MCI overwhelmingly approved a plan for Verizon Communications to buy the company for US$8.4 billion, one of the final hurdles for the major telecom merger.
MCI said 88 percent of its shareholders voted in favor of the merger, despite attempts by some investors to quash the deal. Led by Deephaven Capital Management, a loosely formed group of investors had tried to keep the deal at bay, hoping to induce other suitors to make higher offers.
Confidence Over Money
Those investors felt the company's board of directors was leaving too much money on the table by choosing Verizon as a merger partner over Qwest Communications, which had made several higher offers for MCI during a several month period before withdrawing from the bidding in May. By the end of the bidding war, Qwest was offering the equivalent of $30 in cash for each share while Verizon's offer stood at $26.
Analysts saw the vote as a clear vote of confidence in the vision of CEO Michael Capellas, the former Compaq chief who was brought in to lead MCI out of bankruptcy and who has held fast to his belief that Verizon made the better long-term partner for MCI because it had a healthier balance sheet and more synergies than Qwest.
In a statement, Capellas called the vote a "key milestone." The combined company, he added, "will have the strength and assets necessary to be a competitive force in today's transforming communications marketplace."
Still remaining is the blessing of federal regulators and about a dozen states that have raised questions about the level of competition that will result from the combination. The Federal Communications Commission may give its OK as soon as this month and the Justice Department's anti-trust division is reportedly close to endorsing the merger as well.
Happy Day
Telecom analyst Jeff Kagan said Verizon must be pleased to see the MCI deal close to consummation, even though the final price tag is some $1.7 billion above its original offer. "They are going to end up paying a lot more than they originally intended to, but at least they still have the company," he told the E-Commerce Times.
MCI is considered a prize acquisition because of its deep experience with major corporate customers, the type of foothold in the business world that other telecommunications companies need in order to remain competitive long-term, but the type of advantage that would have cost billions of dollars in infrastructure investments to gain. MCI's broadband network extends to 140 countries.
"MCI is not as important as it used to be since they are no longer a consumer company, but they will let Verizon compete for business customers nationwide and the network, when integrated with Verizon's, can offer services to business customers and consumers nationwide," Kagan added.
The same synergies are seen driving SBC Communication's $16 billion takeover of AT&T, which like MCI has shrunk considerably as a consumer company but remains strong in the business arena.
Not Looking Back
Capellas and MCI are eager to move beyond the company's history, especially its stint as Worldcom. That period led to one of the largest bankruptcy filings in telecom history and has also resulted in several executives and accountants being sentenced to jail as a result of accounting fraud.
Meanwhile, a consolidated telecom industry is taking shape that will feature a small number of large national carriers competing to provide a range of services to customers as VoIP and other technologies combine with a deregulated marketplace to greatly reduce the impact of legacy phone carriers such as Verizon, SBC and other former Baby Bells.
While some analysts say anti-trust regulators may ask for some divestitures to allow the deal through, Verizon has already said it would seek to sell off millions of local calling lines. That part of the business has been hurt by competition from broadband suppliers, including cable companies, and is seen as expendable in favor of business customers and customers who buy bundles of higher-end services such as cable TV and wireless plans.