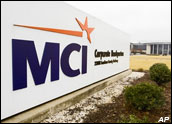 Capitulating to pressure from some shareholders, MCI today said it would hold face-to-face talks with would-be buyer Qwest Communications International, which has offered to pay US$8 billion in cash and stock for the long-distance firm.
MCI, whose board has already given the nod to a bid from Verizon Communications worth $6.7 billion, said it will take time over the next two weeks to discuss and analyze the latest Qwest offer. MCI has said that the larger, more cash-flush Verizon is a more attractive long-term partner.
However, some institutional shareholders have demanded that MCI take its time and evaluate its options more closely. Verizon this week said it agreed to let MCI open talks with Qwest.
Verizon Blessing
Qwest has pressed for MCI to take another look at the revised offer it submitted last week, with the company's CEO making pleas through the media after the new deal, which speeds cash payments to MCI shareholders, was made public.
Asked for comment on the latest development, a Qwest spokesman issued a statement saying: "We look forward to sitting down and having thoughtful and meaningful discussions with MCI."
Verizon said it had given the talks its blessing, hoping they would help address "recent market speculation" about the Qwest offer, but reiterated that it feels it is the "best partner" for MCI.
MCI executives, especially CEO Michael Capellas, have held fast to the company line that Verizon makes more sense as a merger partner. However, shareholders have become increasingly agitated about leaving cash on the table by taking the lower offer, leaving the company little choice but to slow the process down.
"I think everybody expected there to be at least some back and forth," independent telecom analyst Jeff Kagan told the E-Commerce Times. "The surprising thing at the outset was how quickly MCI said it would take the Verizon offer."
Strong Position
As the last major long distance and business communications company, MCI is in a strong bargaining position. However, it might also have its reasons for wanting to move quickly. Recent earnings reports show that earnings and revenue are continuing to decline amid an ongoing loss of customers. Over time, that could erode some of the company's value.
MCI might be hoping that by taking the time to talk with Qwest, it can appease those shareholders who might consider not going along with the Verizon merger.
Some analysts say that company might also be able to coax a sweetened deal out of one or both of its suitors by waiting. "The most logical scenario is for some back and forth to take place," Kagan added.
The current Qwest deal values MCI at $24.60 per share — $9.10 per share in cash and $15.50 worth of Qwest shares — while Verizon's offer is for $6 in cash and $14.70 worth of stock.
Two Offers
MCI revealed that during several months of talks, Qwest had initially put forward two offers, one of which was for all cash and valued MCI at under $20 per share.
Verizon said it agreed to a two-week timeframe for MCI to talk with Qwest. The deal it signed with MCI gives it five days to match any superior offers and calls for MCI to pay a $200 million breakup fee if it wants to walk away from the agreement.
Sanford C. Bernstein telecom analyst Jeffrey Halpern said MCI was backed into a corner by Qwest CEO Dick Notebaert's aggressive media campaign, which riled up shareholders.
Halpern has predicted that Verizon might be forced to add as much as $1 billion to $1.5 billion more to the total value of its offer over time and that because of the potential synergies, especially the access to hundreds of corporate customers, the deal might still make long-term sense for Verizon.