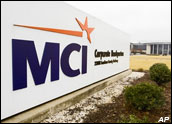 The would-be bidding war for MCI Communications took several dramatic turns in the last 24 hours.
Qwest formally introduced a revised offer promising investors faster payouts, MCI posted earnings results that showed continued financial struggles at the long-distance company and the company's CEO reiterated his belief that Verizon Communications makes a more logical long-term partner.
MCI CEO Michael Capellas said his company would review the new offer from Qwest, which was submitted yesterday.
Faster But Same Amount of Cash
Qwest's new bid does not increase the bottom-line total value of the deal but does speed the pace of cash payments to MCI shareholders and includes a guarantee of additional cash payouts if Qwest's stock price falls. MCI stockholders would now get US$6 in cash per share at approval and $3.10 at closing, rather than the original $1.60 at approval and $7.50 at closing.
In total, Qwest's offer is still for $24.60 per share, nearly $4 per share more than Verizon is offering, but Capellas and the MCI board have favored the lower offer because Verizon makes a stronger long-term partner. Verizon is by far the larger of the two suitors and has a much stronger cash position.
Today, Capellas said Verizon is "the right partner … to deliver long-term shareholder value. We believe in it," he said of the merger with Verizon. Still, he said, MCI would do its "fiduciary duty" to weigh Qwest's new bid.
Having a powerful partner appears to be increasingly important for MCI since it continues to struggle as a stand-alone company. Yesterday, MCI said it lost $32 million in the fourth quarter of 2004 as revenue dropped. The company also said it would continue to see sales fall during 2005.
Two Viable Partners
MCI finds itself in a strong position, said independent telecom industry analyst Jeff Kagan, because it's the last remaining large national long-distance and business communications firm.
"While Verizon still might win, I am surprised Capellas accepted their offer so early," Kagan told the E-Commerce Times. "I think most of us expected both Verizon and Qwest to fight for MCI over days or weeks and maybe even drive the price up. With Verizon and Qwest both wanting MCI, there is obviously a lot more value to squeeze out of this deal."
Some MCI shareholders have expressed a similar sentiment, arguing that MCI was leaving cash on the table by accepting Verizon's offer. Other shareholders might have a longer view, however, and want MCI to link up with the stronger partner, which by most accounts is Verizon.
"The process doesn't need to take a long time, but MCI needs to talk with Qwest as well as Verizon and hammer out the best deal," Kagan said. "MCI shareholders have made it clear that's what they expect, pressuring MCI to get back to the task of entertaining both offers."
Kagan added that arguments can be made that MCI would thrive with either merger partner. "I think both the Verizon and Qwest bids make sense for MCI. They will turn MCI into two very different companies, but there are no rights and wrongs," he said. "It's good for the whole process that MCI has agreed to consider the Qwest offer again. Once the deal with either company is struck, there won't be any unanswered questions."
Staying the Course
That MCI is seeing dwindling fortunes is not a surprise to industry observers, who say the struggles of both AT&T, which agreed to be bought by SBC Communications, and MCI cleared the way for the latest wave of telecom consolidation.
MCI said it lost $32 million in the fourth quarter. By comparison, it had a profit of $22.2 billion a year ago, much of it one-time gains realized as part of its bankruptcy reorganization. The company did have better operating results, but revenue was down about 10 percent to $4.97 billion from $5.5 billion a year ago.
Meanwhile, analysts debated whether Verizon would have to react to the new Qwest deal, which Qwest CEO Dick Notebaert argued in a letter would provide MCI with more control — MCI shareholders would own 40 percent of Qwest after a merger, compared with just 5 percent of Verizon.
Sanford C. Bernstein telecom analyst Jeffrey Halpern said in a research note that with the details of Qwest's bid now public, Verizon might face pressure from MCI shareholders to add as much as $1.5 billion to the bottom line of its offer.
Others noted that MCI will have to pay a $200 million break-up fee to call off the Verizon merger and that the new Qwest deal is basically the same as the original offer, with the exception of the so-called "collar" provision that prevents the cash value of the deal from dropping too low.
Consumer Concern
While the business drama plays out — most analysts say a shareholder showdown is possible but unlikely and that the decision of MCI's board will likely carry the day — the overall impact of the merger is being closely examined because the deal represents the tectonic shifts taking place in the telecom industry.
Already, some industry and consumer groups have raised concerns that too much of the Internet backbone will be in the hands of just two companies if the MCI and AT&T purchases go through. That could have ramifications for business users of the Web, who pay wholesale rates to ship massive amounts of data on networks controlled by the long-distance firms.