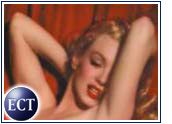 In another blow for the viability of high-ticket item online auctions, the hyped live bidding of an exclusive set of Marilyn Monroe nudephotographs on eBay ended without a sale Thursday evening.
"Of course we're disappointed that the featured items did not meet thereserves, but that's the nature of the auction business," eBay spokesperson Kevin Pursglove told the E-Commerce Times.
eBay would not confirm the number of bidders. However, according to the Los Angeles Times, five bidders vied for the 1949 nudephoto shoot, all failing to meet the undisclosed minimum price set by theseller, Tom Kelley, Jr.
The highest bid offered for the entire series, which was rejected, was reportedly US$475,000. The photos were then auctioned separately, drawing atotal of $840,000 in bids, also short of Kelley's minimum asking price.
Some estimates predicted that bids for the images, called the "Red Velvet" series, would surpass $1 million.
Lower Profile Items Sold
The auction included the intellectual property rights to reproduce theimages wherever and however the winning bidder chose. The auction was heldonline through eBay, simultaneous with a traditional live auction at Butterfields.
Along with the photo series, other Monroe memorabilia, including a silk-and-chiffon gown worn in the movie "The Prince and the Showgirl" and ahandwritten note on her reasons for seeking a divorce from her first husband, Jim Dougherty, were put up for auction.
According to the Los Angeles Times, thedress sold for $23,375, and the note went for nearly $3,000.
Copyrights for Sale
The auction came under criticism by collectors and dealers who said that the saleof the intellectual property rights was highly unusual and would set afrightening precedent.
But in a twist of irony, both a spokesperson fromButterfields and an agent for Kelley told industry press that they thoughtthe pictures failed to sell because it may not have been clear to biddersthat the intellectual property rights were part of the sale.
Pursglove said that eBay had no way of judging whether that was an issue for bidders or not. He also said that eBay has no way of determining if Kelley'sminimum reserves were set too high.
"Each auction presents its own environment and its own conditions," Pursglove said.
How Big?
Despite reports of slower than expected bidding, eBay contends that the failure to sell the "Red Velvet" photo series is not a sign that high-ticket items do not sell online.
"Some of the items that went last night went for $15,000 to $20,000 peritem," Pursglove said. "Slowly but surely, people are becoming accustomed to bidding online,and bidding was very active. They just didn't meet the necessary reserves."
Despite eBay's disappointment over the photo series, theevening was a success for eBay's art and collectibles site, eBay Premier.
"Close to 60 percent of the bids were placed online through eBay Premier,and about 20 percent of items that were sold, were sold over Premier," said Pursglove. "In thatsense it was a good evening for us."