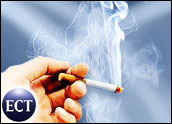 The U.S. Government Accounting Office (GAO) has determined that states are losing out on millions of dollars in unpaid excise taxes because of online cigarette sales. This realization comes after the Federal Trade Commission got wise a few weeks ago that the government might be able to do more to grease the works for an e-commerce takeoff.
It's nice to know the government is paying attention. Now, as an experiment, let's all hold our breath until it actually does something about either issue.
Not interested? I don't blame you one bit. The fact is that it's one thing to identify a problem. It's far different to actually solve it.
Baby Steps
Of course, just talking about these things is a step forward — admitting you have a problem and all that.
The GAO's report about online cigarette sales is particularly interesting. Basically, it says people are going online to buy butts because they're cheaper there. And get ready to be shocked: Those customers are not mailing checks to their state governments for the taxes they avoided by buying online. Groundbreaking stuff, to be sure.
But this is no tempest in a teapot. This is serious dough. Based on numbers from Forrester, the GAO says states could lose US$1.4 billion a year. With budgets getting cinched a little more each day, that's a lot of money.
The government wants the Bureau of Alcohol, Tobacco and Firearms (ATF) to get involved in enforcing the cigarette sales tax, but it also admits there are some gray areas, including an exemption for sellers with Native American status.
All Talk
So what will happen? My guess is: not much. There might be some tough enforcement talk, and it might even be enough to make some online cigarette sellers do a better job of informing customers that they're responsible for paying taxes on their end.
But the ATF, like all law enforcement, is a tad busy these days. Can anyone really picture them busting down the door of John Q. Smoker to collect the $5 in taxes he owes on the half-smoked carton of Camels on his nightstand? To say it's unlikely is an understatement.
So we've got a report, and that's likely all we'll get on this for a while. Meanwhile, we're going to get an actual meeting on the regulatory hurdles issue.
Huddle Up
Yes, the government has called people from all walks of life to a sit-down in October on the issue of whether traditional industries are using state regulations to slow e-commerce growth.
It'll be a nice photo opportunity. And just a few weeks before mid-term elections, a nice chance for the administration to show it cares about the little guy, the upstart. But will anything get done?
Lots of talking will take place, to be sure, but nothing of substance. And after all that chatting, many of the panelists will probably retire to the courtyard for a smoke. Maybe the ATF will be hiding behind a rose bush, ready to pounce. But probably not.
What do you think? Let's talk about it.
---
Note:
The opinions expressed by our columnists are their own and do not necessarily reflect the views of the E-Commerce Times or its management.
---