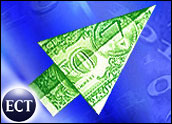 LookSmart (Nasdaq: LOOK) was up 0.50at 3.468 in early trading Wednesday after the company announced a subsitelistings deal with e-tail giant Amazon.com (Nasdaq: AMZN).
Amazon will promote "thousands" of product categories through LookSmartdirectory links and keyword searches, which will enable users to connectdirectly to relevant shopping areas of Amazon's Web site, LookSmart said.
Owen Van Natta, vice president of business development at Amazon, saidthat LookSmart's service will "help make it easier for customers to find exactlywhat they are looking for."
Brian Goler, senior vice president of sales at LookSmart, noted that "Amazon.com has pioneered advancements in every metric of online retailing." Goler also said that "signing a deal of this magnitude" with the giant e-tailer proves the "potential effectiveness and power" of LookSmart's subsite listings product.
LookSmart introduced its subsite listings product in the third quarter of2000, and says the service is now being used by eBay,VerticalNet, DealTime, CNET's mySimon and Women.com, among others.
LookSmart, based in San Francisco, California, provides Web directoryservices. The company recently announced a restructuring which includes the elimination of 172 jobs, or31 percent of its workforce. The restructuring plan will also mean a charge tofirst-quarter earnings.
LookSmart is also expecting a weak fourth quarter as it shifts to a focus onmore profitable operations, such as subsite listings, and reduces its relianceon online advertising revenues. The company said its listing business has generated US$10 million since the offering was launched.