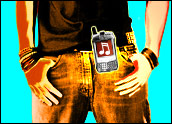 With the kaching of ringtone sales still ringing in their ears, music companies are preparing the next wave of mobile music services, with customized snippets of songs providing alerts for a range of phone functions.
Ringtone revenues are expected to begin leveling off this year, and labels are preparing to pursue early adopters with new offers: short clips of songs that play when a newvoice mail has arrived or when a text message has been received, for example.
Labels are reportedly working with national wireless carriers to roll out the musical alerts in coming weeks. The idea is to build on the success of ringtones, which surprised many analysts with their strong growth and adoption rates, even among more mature cell phone users.
Carriers are eager to work with labels to enable the technology as a means of generating additional revenue without the need to add extra network capacity.
"People take their mobile phones very personally, and they want to customize them to express their personalities," telecom analyst Jeff Kagan told the E-Commerce Times. "A lot of users consider the prices they pay for short clips of songs to be a bargain and view ringtones not as a luxury but a necessity."
Everybody Wins
Sales of ringtones and similar song clips, in fact, are seen as a positive for both carriers and record labels, which have huge sales of some of the most popular ringtones. Such sales are predicted to level off starting this year, however, leaving both carriers and labels searching for new revenue growth opportunities.
Meanwhile, the convergence hitting the telecommuncations industry may extend the reach of ringtones, with some home landline phones soon likely to offer top 40 tunes as an alternative to electronic bleats and traditional rings.
Last month, Skype, the peer-to-peer communications firm now owned by eBay, said it would make master ringtones from labels such as EMI Music Publishing and Sony/ATV Music Publishing, as well as artists such as Madonna, available for users of its Internet Protocol phone service for US$1.50 each.
Published reports say several labels have a deep pool of so-called "alert tones" ready to sell once carriers are ready to handle them, with Universal Music Group already converting songs such as Nirvana's "Smells Like Teen Spirit" and 50 Cent's "Candy Shop" for download as alerts.
Moving beyond ring tones could help ensure that labels can continue to cash in even as fewer mobile phone minutes are spent talking live to another person. The Cellular Telecommunications & Internet Association says nearly 10 billion text messages are sent each month, representing an enormous and largely untapped market for music clips.
Stops and Starts
Selling clips and tones is one way for labels to get a foothold in the mobile world until the mobile music market further evolves to enable wider download of full songs, streaming digital radio and other features.
Those services are coming but will require faster networks still being rolled out in many parts of the country.
For now, the rush is on to provide audio clips, with startups such as Endtone and PhoneBites offering clips that can be used in various ways, including as outgoing voice mail messages or even dropped into live conversations at the press of a button.
Some predict the novelty of such musical interludes may soon wear off, or at least reach a saturation point beyond which there will be little room left for growth. There are also social issues surrounding ring tones, with a debate raging in the UK and elsewhere about the appropriateness of some tones — especially racy or profane song clips — in public places.
Still, such downloads are a cash cow for both carriers and labels, and they will go to great lengths to continue the trend, Yankee Group analyst Mike Goodman told the E-Commerce Times.
"Young consumers in particular have taken a shine to master tones, and the industry will continue to find more ways to deploy them," he said.