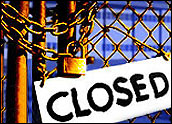 Online delivery service Kozmo abruptly announced that it is shutting down Wednesday after nearly three years in business, leaving 1,100 people out of work in nine U.S. cities.
Kozmo said the shutdown was effective late Wednesday and that all but a handful of employees, who would be kept on to help close down the company, would be fired immediately.
The decision reportedly came as merger talks failed and after at least one of the New York-based delivery firm's investors backed out of a recent US$30 million round of funding.
"Given more time and more hospitable market conditions, Kozmo would have succeeded in rounding the corner," Kozmo president and chief executive officer Gerry Burdo said.
Early Missteps
Kozmo began as a free service offering urban delivery of virtually any product, an idea that attracted more than $250 million in venture funding over Kozmo's relatively brief lifetime.
Amazon.com (Nasdaq: AMZN), which has invested $60 million, and Flatiron Partners were among the investors to back Kozmo.
For much of its early life, however, the service was a money-losing proposition.
"Some decisions made early in the company's development, combined with current market conditions, prevented Kozmo from overcoming the challenges associated with conquering the last mile," Burdo said.
Losing Money
Within the past year, Burdo instituted a series of changes, including a delivery fee for small orders and the introduction of a host of higher-margin products into the fold, such as fresh flowers and prepared meals.
Kozmo recently dropped the dot-com from its name and said it would launch a catalog of high-end products available for delivery. The firm also shelved an ambitious expansion plan, laid off workers and cancelled a long-term marketing agreement that put Kozmo video drop-off bins in hundreds of Starbucks coffee shops around the country.
Kozmo spokeswoman Stephanie Cohen Glass said that the company continued to attract new members, doubling its base of customers to 400,000 in the past year. With help from the new line of products, average order size grew to $25 from $10.
Glass also said that Kozmo turned profits in Boston, Massachusetts; San Francisco, California; and New York City during December 2000.
Failed Merger?
Glass would not confirm reports that Kozmo had been engaged in merger talks. However, The Venture Wire newsletter reported that Kozmo shut down shortly after talks with Los Angeles-based delivery firm PDQuick broke off Wednesday.
"After a careful review of all options, the board felt it was important to preserve our remaining resources while keeping the employees' best interests in mind, including being able to pay them a severance," Burdo said.