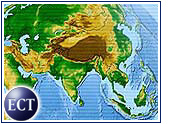 Commerce One, Inc. (Nasdaq: CMRC)was up 3 1/16 at 42 5/16 early Monday after the company announced a pushinto Korea with a new online marketplace for businesses in the region.
The new GTWeb Korea will be the country's first online marketplace forbusiness-to-business (B2B) e-commerce that provides "a full range ofe-commerce products and services," Commerce One said.
The new marketplace is part of Commerce One's Global Trading Web. Asianmarketplaces participating in the Web include NTT Communications,Mitsubishi, Asia2B, Com2B, SeSAMi, TradeAlliance, and Cable & Wireless Optus.
"GTWeb Korea is another in a series of major milestones in our effortsthroughout Asia in moving business trade onto the Web," said Commerce Onechief executive officer Mark Hoffman. "We believe GTWeb Korea is poised tobe a major player in this region due to its expertise and deep understandingof specific industrial sectors."
Commerce One's partners in GTWeb Korea include LG Electronics; carmanufacturer Hyundai; information and telecommunications giant Dacom;conglomerate Kumho Group; and Samyang Corp., which sells polyester, food,livestock feed, chemicals and environmental engineering services.
GTWeb Korea eventually expects to expand into industrial markets such aschemical, automotive, medical and electronics supplies. "There is atremendous opportunity to target these industrial areas," said Chung Tae-Ki,chief executive officer of GTWeb Korea.
Analysts are looking to the Asia-Pacific market as a source of growth fore-commerce in coming years. According to Forrester Research, B2B e-commercein Korea will rise to about US$185 billion by 2004, a compound annual growthrate of 143 percent.
In separate news on Monday, Commerce One said that Changho Lee will become the company's regional sales director for Korea. Lee will be responsible for boosting the company's business and strategic alliances in the country.
"We anticipate that Mr. Lee will play a critical role in assisting Korean industries in moving their e-commerce onto the Web," said Lloyd Oki, Commerce One's general manager and vicepresident for Asia Pacific.