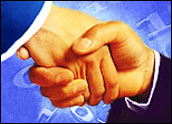 Photography giant Eastman Kodak (NYSE: EK) announced Tuesday that it has taken an equity stake in online photo site PhotoAlley and said the two companies plan to work together to drive sales of both conventional and digital photography products and services.
Also on Tuesday, Kodak announced a partnership with Circuit City to offer co-branded Internet-based photofinishing.
The announcements appear to be well-timed, as recent research shows that there is a growing demand for Internet photo developing. According to InfoTrends Research Group, the Internet photofinishing market is expected to reach $1.4 billion (US$) in annual sales by 2003.
The Boston, Massachusetts-based research firm also said that consumers will upload approximately 1.7 billion pictures to online photo services this year and more than 6 billion images in 2003.
PhotoAlley.com Partnership
Kodak said it will receive an observer seat on PhotoAlley's board of directors but did not disclose the amount of the company's equity investment in PhotoAlley.
As a result of the partnership, PhotoAlley will offer its customers print fulfillment through [email protected], Kodak's Internet photofinishing service. Kodak will also provide PhotoAlley with photo processing, scanning and uploading services through its photo finishing subsidiary Qualex.
The agreement also means that consumers who want to purchase Kodak digital cameras can do so through PhotoAlley's online store.
Circuit City Partnership
Kodak and Circuit City are partnering to offer co-branded photo album software along with Internet photofinishing.
Those who purchase the co-branded [email protected] Extra Value/Starter CD will receive photo album software that will let them organize their digital photos.
Consumers will also be able to log onto a co-branded Web site using the CD to upload their digital photos and order traditional prints that can be delivered to any U.S. address.
Previous Online Endeavors
Tuesday's announcements do not represent the Rochester, New York-based Kodak's only forays into cyberspace. The company has photofinishing agreements with CVS.com, Ememories.com and Snapfish.com, and operates a joint venture with America Online called "You've Got Pictures."
Additionally, Kodak operates its own online photography site, which includes editorial content and camera sales. The site also allows consumers to upload, edit and share their digital photographs.
Yet Kodak's online ventures will have competition from Web behemoth Amazon.com, which recently announced a partnership with online photo finisher Ofoto, Inc.
Under the terms of the partnership agreement, Amazon will offer its customers a way to process both digital and traditional photos online and a place to store them.
New Digital Development VP
On Monday, Kodak named Ted G. Lewis, a former DaimlerChrysler executive and Silicon Valley insider, as senior vice president, digital business development.
Lewis will manage Kodak's $100 million venture capital fund with the goal of finding companies and startups to expand Kodak's online and digital operations.