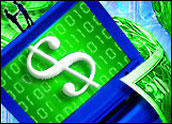 National discount retailer Kmart (NYSE: KM) and its online unit, BlueLight.com, announced Monday that they have teamed up to launch a new unlimited access Internet service plan for US$8.95 per month.
San Francisco, California-based BlueLight said the service, which is aimed at both new users and its 7 million-plus subscribers, is the lowest-priced major Internet service provider (ISP) available to consumers and provides more local access numbers than its competitors, including America Online (NYSE: AOL) and NetZero.
Kmart and BlueLight also said that the offering will be tied into their online shopping rewards program, allowing customers the opportunity to get free monthly Internet service in return for buying products through the BlueLight Web site.
Customers that sign up for the service before September 1st will receive a reduced access rate of $6.95 for the first three months, and then will be charged the regular rate thereafter.
Tiers on My Pillow
Although it originally designed its ISP as a free unlimited plan, BlueLight instituted a two-tiered model earlier this year, capping the number of access hours it would give away to customers in favor of a fee-based plan.
The e-tailer's ISP has been offering a premium package, which provides 100 hours of online access for $9.95 per month, and a basic plan, which supplies 12 hours of access per month for free.
Ending Free Service
Monday's announcement, however, seals BlueLight's exit from the free ISP market, which has turned out to be a money-losing proposition for such competitors as NetZero and Juno.
BlueLight said it will discontinue its basic service August 29th. Premium subscribers will automatically be transferred to the $8.95-a-month unlimited ISP on July 30th.
Under Kmart's Wing
The move comes on the heels of Kmart's decision last week to buy the 40 percent stake in BlueLight that it did not already own, in an effort to leverage its brick-and-click potential.
Published reports first gave hints of the buyback deal in late May, amid restructuring at BlueLight that included layoffs and executive moves. At the time, BlueLight began shifting many of its merchandising and marketing functions to Troy, Michigan-based Kmart, to help improve its overall efficiencies and speed toward its goal of running in the black.
BlueLight was set up by Kmart and Softbank more than two years ago. Martha Stewart Living Omnimedia (NYSE: MSO) later bought a minority stake as well.