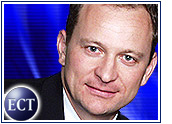 Kana Communications (Nasdaq: KANA) was at US$4.06 in morning trading Tuesday, up 9 cents, after the company saida division of German communications firm Bertelsmann will use Kana's technology as the "backbone" of its U.S. customer service centers.
Bertelsmann Services, a $900 million customer-service outsourcing division of the media giant that owns RCA,BMG Music and Random House, will use Kana's Response software to track, analyze and improve customer interaction, said the Redwood City,California-based software maker.
Response software "automatically generates on-target responses to customer questionsfrom the Internet," according to Kana. Response also provides historiesof customer interaction with a company and a "broad analysis of customerconcerns," the company said.
Bertelsmann Services' investment in Kana "paid for itselfin less than three months," according to Markus Ramirez, vice president of customer relationship management atBertelsmann Services.
"With Kana, we are effectively handling more Internet inquiries in afraction of the time it took manually, and Internet-based interactionsautomatically become part of the customer's integrated interaction record,"Ramirez said.
Another Bertelsmann division, Bertelsmann Marketing Services, is using Kanatechnology to run a customer care center in Germany.
For the fourth quarter ended December 31st, Kana reported a net loss of $2.4billion, or $27.21 per share, including a $2.1 billion charge for theacquisition of Silknet Software, and a $2 million charge to cover apatent settlement. Revenue, though, climbed to $42.4 million from $6.5million.
When it reported the results, Kana said the market for so-called "enterpriserelationship management" software — which includes managing e-mail and othercommunications — is likely to remain strong despite a decline in overallspending on information technology.
The company said it expects 2001 growthto be "greater than 50 percent" over 2000, with a positive cash flow in thethird quarter and a profit in the fourth quarter.