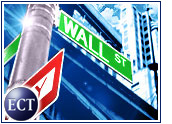 Juniper Networks (Nasdaq: JNPR) was up62 U.S. cents at $43.38 in morning trading Thursday, after meeting analyst estimates for the first quarter, but warning on results for thecurrent period.
"We are particularly pleased to report the continued growth and execution ofJuniper Networks, especially given the challenges of today's economy,"chairman and chief executive officer Scott Kriens said of the firstquarter's results.
The Sunnyvale, California-based maker of routers and other network equipmentsaid revenue for the quarter ended March 31st rose to $332.1 million from$63.9 million a year earlier, while net income rose to $58.6 million, or 17cents per share, from $8.1 million, or 2 cents.
Pro forma income rose to $85.4 million, or 25 cents per share, from $10.5million, or 3 cents, results that were in line with analyst expectations.
"These results reflect not only the strength of the company, our products,and our global customer base, but also our continued focus on the financialfundamentals," Kriens said.
Executives, however, reportedly warned analysts and investors on aconference call that the slowing economy could crimp results in the monthsahead, and lowered their outlook for sales and earnings for the year as awhole.
Juniper, like many of its competitors, has seen business slow along with theeconomy as customers cut back on purchases of technology equipment.
CiscoSystems (Nasdaq: CSCO), the biggest network equipment manufacturer, hasreportedly been laying off workers. News of its competitor's troubles hashurt shares of Juniper as well.