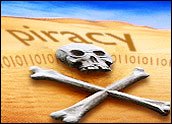 In response to Tuesday's open letter from Apple CEO Steve Jobs calling for major record labels to stop requiring digital rights management (DRM) technology on music sold online, the Recording Industry Association of America (RIAA) is now calling on Apple to license the antipiracy technology it uses to protect music it sells online.
Currently, music purchased online through Apple's iTunes Store comes with hidden, proprietary DRM code, known as "FairPlay," that prevents it from being played on devices other than Apple's own iPod.
Meanwhile, songs purchased at competing online music stores, such as Microsoft's Zune store or Sony's Connect store, use different DRM code and, therefore, cannot be played on the popular iPods, of which 90 million have been sold. The result is a lack of interoperability that makes listening to digital music harder for consumers.
An Ineffective Solution
Jobs' letter, posted on Apple's Web site, said that Apple only uses the DRM technology because the major recording labels require it — not because it succeeds in preventing piracy.
"DRMs haven't worked, and may never work, to halt music piracy," Jobs wrote. "Though the big four music companies require that all their music sold online be protected with DRMs, these same music companies continue to sell billions of CDs a year which contain completely unprotected music."
Jobs also justified Apple's decision not to license its FairPlay DRM, arguing that it would make the technology more vulnerable to hackers.
Yet licensing FairPlay is just what the recording industry is now asking Apple to do.
In Search of Interoperability
"We all want to see this marketplace work and for fans to enjoy the music they have lawfully bought on various devices or services," said Mitch Bainwol, chairman and CEO of the RIAA. "The issue is how.
"One way to achieve it was outlined by Steve Jobs in his post — for Apple to license its DRM to other technology companies. We think that's a great solution. Obviously, it would need to be done right and in the marketplace — but we have no doubt that a technology company as sophisticated and smart as Apple could work with the music community to make that happen. This would enable the interoperability that we have been urging in the marketplace for a very long time."
EMI, which along with Sony BMG, Universal Music Group and Warner Music Group is one of the "big four" recording labels Jobs referred to, echoed the RIAA's call for interoperability.
"It's clear that the current lack of interoperability is an issue for consumers, so EMI has been working with partners to try to find a solution," Adam Grossberg, an EMI spokesperson, told the E-Commerce Times.
In the last few months, EMI tried offering tracks from artists Norah Jones, Reliant K and Lily Allen in the open MP3 format, Grossberg said. "The results were very positive, and we got very enthusiastic feedback from customers."
Grossberg declined to comment specifically on Jobs' statements.
New Markets, Less Patience
"I think Jobs is on the right side of the argument here, and the reason is that DRM files are retarding the growth of the legitimate digital music market," Phil Leigh, senior analyst for Inside Digital Media, told the E-Commerce Times.
Digital music has now entered the mass market, he added, which means it is often teenagers who purchase music tracks today.
These same teenagers tend to spend time on MySpace and other sites that Leigh claimed are common sources of malware, such as viruses and spyware, which ultimately require that their computers be cleaned. Often, he noted, digital music tracks are lost along the way to the viruses or the cleanup process because of the sensitive DRM protections.
The result? "Early adopters had the skills and tolerance to deal with these issues, but mass-market consumers don't have the patience," Leigh explained. "It's become easier to avoid buying digital tracks" in the first place.
A Free Future?
Looking forward, there are many opinions as to what the solution should be. Leigh said he believes the music labels are going to have to accept to necessity of making music free online, not just because consumers are demanding it but because it's the key to publicizing new releases — a task traditionally done by radio, but now moving to the Internet.
The industry is already moving in that direction, he added, such as by providing free music podcasts in which the revenue comes from advertising and sponsorships.
The potential downside of that approach, of course, is piracy, but the severity of that problem can only be assessed by trying — something Leigh thinks the music industry needs to do incrementally, starting with its back catalog of older songs.
Another possibility would be to take DRM technology and repurpose it so that it's focused less on locking songs and more on accounting and tracking legal sharing activity, Mike McGuire, vice president of research for media at Gartner, told the E-Commerce Times.
"If you move DRM to that kind of a discussion, you start enabling legal alternatives that let you compete with free music," McGuire said. Such uses of DRM could help users find new music and would recognize the role of music as a "lubricant of social discussion," without necessarily allowing people to get music files without paying for them, he added.
Of course, "there are people out there who will always try to get something for free," McGuire noted. "They've always been there, and they always will be."