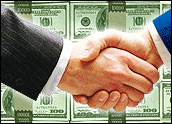 ITT Industries announced today that it has won a seven-year contract that could reach a maximum value of US$2.5 billion from the U.S. Army's Logistics Readiness Center. ITT will produce Single Channel Ground to Air Radio System (SINCGARS) combat radio systems for the Army.
Under the terms of this omnibus contract, the Army can order varying numbers of SINCGARS radio systems and spares over the next seven years to support U.S. and allied forces worldwide. The contract also permits ITT to upgrade earlier model SINCGARS with current technology. The initial order placed on this contract is valued at $49.5 million.
"These VHF/FM radios work like a PC," John Kirkwood, marketing communications director for ITT's Aerospace/Communication Division told the E-Commerce Times. "They are software-driven with an open architecture system that has networking capabilities."
Private-Public Partnership
ITT developed SINCGARS with the U.S. Army, and has produced four generations of the system with more than 250,000 units operating globally from Korea to Iraq. Each new generation of SINCGARS incorporates new technology to enhance functionality of the digital communication system.
"For security purposes, our software gives the radios the ability to frequency hop, which means part of the message is transmitted on one frequency and then the transmission hops to another frequency," Kirkwood says. "You have to be on the same hopping sequence to be able to hear it."
Kirkwood said the radio also uses waveform technology, a complex method of data processing that allows it to work in noisy environments.
R&D To Continue
This year, the Army ordered $311 million in SINCGARS and SINCGARS support equipment. Today, SINCGARS serve as the mainstay radio for units like the Army's 82nd Airborne Division. Kirkwood said next generation SINCGARS will include embedded GPS along with combat identification.
"We are pleased to continue our long and successful relationship with the Army in developing communication systems such as SINCGARS," said Lou Dollive, president and general manager of ITT Industries Aerospace/Communication Division. "We are committed to maintaining that relationship in the future through development of an entirely new generation of solidercommunications."