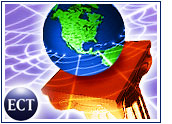 More than 100,000 technology jobs have been outsourced from the United States to overseas workers, a trend that will continue for several more years but is actually good for the U.S. economy, a new report from the Information Technology Association of America (ITAA) argues.
The report, released today, states that continued outsourcing of white-collar technology jobs will lead to lower prices for consumers, keep inflation down, boost productivity and eventually create more jobs at home.
The ITAA, whose members include many firms that have taken advantage of the cost savings offered by outsourcing — such as Amazon.com, IBM, Microsoft and Hewlett-Packard — commissioned research firm Global Insights to prepare the report.
Reversing Fields
While economists and industry watchers have been quick to downplay the impacts of outsourcing amid increasing political and labor unrest over the issue, the ITAA report is among the first to portray the practice of outsourcing, or offshoring, as a net gain for the U.S. economy.
The report argues that the job loss caused by outsourcing is far less significant than the damage done by the dot-com bubble burst, which cost the tech economy more than 250,000 jobs. It also said the cost savings companies reap by moving jobs overseas allows them to invest in research and development and other expansion efforts, creating new jobs as a result.
Outsourcing dramatically reduces labor costs, allowing companies to sell goods ranging from software to tax-preparation services at lower costs or higher profit margins. Greater profits theoretically allow companies to buy new equipment, build laboratories and conduct scientific experiments, even in expensive Silicon Valley and other U.S. tech hubs.
The report argues that companies created some 90,000 new jobs in 2003 as a result of savings recouped from outsourcing other work. Some 10 percent of those jobs were created in California, one of the states hardest hit by outsourcing and one of several states where anti-outsourcing legislation has been proposed. Within four years, the survey said, 317,000 jobs will be created as a result of outsourcing cost savings.
Questions Raised
Not everyone buys into the premise of the report. John A. Challenger, CEO of job placement firm Challenger, Gray & Christmas, told the E-Commerce Times that jobs are being outsourced faster than they can be replaced by startups and expanding firms.
Challenger predicted some 585,000 jobs will have been moved overseas by the end of next year. At the same time, the percentage of laid-off workers who intend to form their own companies rather than seek new employment has dropped sharply. Challenger's firm found that only about 6 percent of laid-off managers had entrepreneurial intent in the fourth quarter, compared with 15 percent in the early 1990s, when startups helped lift the U.S. economy out of recession.
"This recovery is coinciding with the growth of offshore outsourcing," Challenger said. "The expansion of offshore outsourcing makes startups and industry-switching even more important in supporting a recovery, but they seem to be missing this time around."
He said that to stem the tide of outsourced jobs — particularly higher-paying jobs in such fields as software development — the United States needs to focus on improving its educational system, with special attention paid to community colleges and other institutions that offer access to those who do not obtain four-year degrees.
Political Hot Potato
Outsourcing promises to be a hot-button issue in this year's presidential campaigns, with Democratic candidate John F. Kerry already floating a proposal to help curb the trend.
Meanwhile, companies continue to take advantage of the cost savings offered by offshoring, but they are also increasingly mindful of the public relations impact of such maneuvers.
IBM recently announced it would create a fund to help retrain U.S.-based workers whose jobs were shifted to India and other locations. And Dell moved some outsourced customer-service jobs back to the United States after a rash of complaints about the quality of service received from a call center in India.