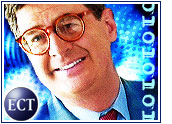 In a move apparently designed to quell fears about widespread outsourcing of U.S.-based tech jobs to other countries, IBM has established a US$25 million worker retraining fund.
The fund, dubbed the Human Capital Alliance, will be made available to IBM workers whose current positions or skill-sets are being outsourced to such places as India, Pakistan and China.
IBM said that for the next two years, it will focus on training workers in areas where it sees the most demand in the short- and long-term future, including Linux and on-demand computing. The money also will be made available to workers in the United States and the United Kingdom who need to relocate to put their new skills to use, IBM said.
Staying the Course
Big Blue CEO Samuel Palmisano announced the fund at the company's annual IBM Partners World event in Las Vegas.
Outsourcing has become a divisive issue that is resonating in the U.S. presidential campaign. Palmisano defended outsourcing, citing the need to improve quality of life and standards of living in countries with still-developing economies.
Although IBM has not backed down from its plans to outsource jobs overseas, the companyhas made every effort to match those plans with moves to add staff in the United States.For example, IBM has said it could hire as many as 15,000 people this year as it ramps up to meet growing demand. It also has said about 5,000 of those jobs will be based in the United States.
IBM spokesperson Chris Andrews told the E-Commerce Times that the specific skills workers get in retraining will depend on feedback from business partners and trends in the marketplace. He added that the workers who will receive top priority for retraining are those whose existing lines of work are no longer as important strategically to IBM, its partners or enterprises in general.
Fine Line
While corporations say they must take advantage of outsourcing opportunities if they are to compete and stay profitable, U.S. worker unions and others worry that the jobs being exported — such as software engineering — are high-paying, white-collar positions that are not being produced quickly enough here at home.
John A. Challenger, CEO of job placement firm Challenger, Gray & Christmas, said the trend is for more and more better-paying jobs to be included in outsourcing programs. And companies are beginning to feel more pressure from customers — and from the political realm — to either keep jobs in the United States or work to replace those being moved.
"Shareholders like what outsourcing does for a bottom line, so corporations can't ignore it, especially when competitors are involved," Challenger told the E-Commerce Times. "But there's also a public relations aspect of the outsourcing movement, and that's become more of a problem for companies. They can't do this under the radar anymore."
On and Off Demand
Palmisano used most of his keynote speech at Partner World to talk about on-demand computing, a recurring theme for nearly two years now. He said many enterprises still do not understand how on-demand computing can help them maximize their IT investments, and he called on IBM's software resellers and other third-party partners to help spread the word.
"What we mean by on-demand is a business model, supporting technology to make that all come together and work, and about giving the customer more flexibility," Palmisano said as he called on partners to "commit" to IBM's open-standards approach to enterprise computing. "We think IBM is better positioned to lead than any other company in this space."