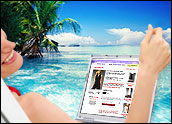 The promise of the Web has long been the ability to personalize, and the shopping experience is no exception.
Startup iStorez is trying to bring a twist to the personalization of e-commerce, using proprietary technology to create a dynamic shopping experience that leverages the special offers that scores of retailers are already making to their customers and prospects.
Kriyari, a maker of online shopping platforms, launched iStorez in late January. The site collects and organizes shopping newsletters from hundreds retailers and brands and uses a back-end software blend to turn them into searchable storefronts.
No Eureka Moment
The idea, said Neng Bing Doh, director of marketing at Kriyari, came from serial entrepreneur and founder Anand Jagannathan — who founded enterprise networking firm Banyan Systems, Reach Software and interactive marketing firm Responsys before founding Kriyari.
"He had been in that e-mail marketing space and saw it as a new play on the traditional e-mail newsletter," Bing told the E-Commerce Times. "There wasn't a eureka moment, but it was a next step."
With iStorez, consumers can create their own customized malls, where the weekly special offers from their favorite retailers and consumer packaged goods companies are all in one place, Bing says.
"Each week, the company I buy my makeup from might have a free special offer of a tote bag or a free moisturizer with a purchase, and I might miss it if I don't have a place where I can go to find out what it is," she added. "Keeping tabs on those types of offers in one place is something consumers are going to find attractive."
New Channel
Essentially, iStorez receives a merchant's weekly promotional e-mail newsletters and then uses its software to turn the text and images into a glossy promotional display that Bing likens to a fashion magazine spread.
For retailers, iStorez becomes a new ad channel leveraging creative content already being produced. When sales are made through iStorez, the site receives a commission.
"What sets us apart is that the content is always fresh. New storefronts come in all the time," Bing notes. "The consumer only sees what's current. There's no expired promotions, no chance that you'll try to buy something that's not available any more."
Consumers can also select which stores they want to search or see offers from when they register and login. In addition, Bing says a future release will include additional tools for shoppers, such as the ability to collaborate with others to build profiles and wish lists.
Personalization Quest
iStorez essentially competes with others comparison shopping sites and shopping search engines, many of which have access to the same pricing and sales data that iStorez accesses.
Comparison shopping sites can be problematic because products appear ranked mainly by price or other single factors, rather than being presented based on a shopper's profile, which includes a list of things they are interested in, past shopping activity and other factors.
The ability to personalize may help give it a competitive edge and folding in collaboration may give it a Web 2.0 twist that will appeal to certain shoppers.
"Personalization has been a buzzword in e-commerce for years, but achieving it and finding ways to make it pay have not proven to be easy," Forrester Research analyst Carrie Johnson told the E-Commerce Times.
Still, successes such as Amazon.com have ensured that others will try to follow suit, she added. "By most accounts, personalization, when done right, does boost conversion rates and revenue, which means retailers are going to keep trying to find the right formula."