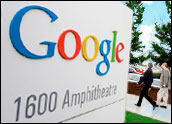 For just the second time in its history as a public company, Google disappointed investors with its earnings report, saying Thursday that sales and earnings were up but posting profits that were below Wall Street expectations.
The Web search and advertising giant's gross revenue, which does not account for the money spent to acquire Web traffic, rose 58 percent year-over-year to US$3.87 billion compared with $2.45 billion last year.
Profits were also up sharply, with income rising to $925 million, or $2.93 per share, compared with $721 million, or $2.33 per share in the year-ago time frame.
Coming Up Short
Still, the bottom line came up short of what Wall Street was looking for out of Google, which was expected to make even more money thanks to weakness at rival Yahoo and improved monetization of search traffic. The average forecast among analysts covering Google was for $2.96 per share.
Investors were quick to react, sending Google shares down more than $44, or 8 percent, in after-hours trading late Thursday. In morning trading Friday, Google stock was down more than 6 percent to $513.21.
As in the past — Google missed consensus forecasts when it reported fourth-quarter results in January 2006 — the miss may renew calls for Google to abandon its philosophy of not issuing forward-looking guidance. Its decision to eschew such forecasts means Wall Street analysts have less information to go on when they assemble their own forecasts.
Bright Side
Google's miss was attributed largely to voracious spending on research and development of new products and hiring of new employees — investments that may pay dividends in the future. Google acquired some small companies during the quarter, and rolled out several new initiatives, targeting businesses with search tools and its Google Apps family of Web-based tools, for instance. It also opened a research center in Israel.
Google continued to grow its headcount aggressively, ending the second quarter with 13,786 employees, up from 12,238 at the end of the first quarter. That means Google added 17 employees per day during the quarter, or one new worker every 90 minutes.
Those costs helped cut profit margins to 28 percent from 33 percent in the year-ago time frame.
The Next Stage
"Google is spending money to build the next stage of business growth," Piper Jaffray analyst Gene Munster told the E-Commerce Times.
"Many investors have been calling on Google to expand its horizons to lessen its reliance on search ads," he said, and Google is attempting to do that and ensure it has the workforce to handle the many new initiatives it will roll out. "There is a trade-off between the long-term and short-term," Munster added.
The company did exceed its own internal plan for hiring in the quarter, but also focused on the continued growth at the search powerhouse, said Google CEO Eric Schmidt.
"Our performance once again demonstrates the strength of our core search and ads business," he said, citing "solid revenue growth, even in a seasonally slow quarter."
Revenue from Google-owned sites rose 74 percent and accounted for 64 percent of total revenue. Partner sites — including those in the AdSense program — generated the rest, about $1.35 billion, up from $997 million a year ago.
Almost half of Google's sales came from overseas, with international revenue accounting for 48 percent, up from 42 percent last year.
Google's number of paid clicks overall was up 47 percent in the quarter over 2006 and about level with the first quarter of 2007.
The company ended the quarter with about $12.5 billion in cash, and will continue to invest in capital expenditures, product development and growth, it said.
Still the One
Google's earnings dampened what had been relatively strong enthusiasm about the tech sector. Earlier this week, IBM posted strong results and Microsoft put up decent numbers on Thursday. Google joined Yahoo in disappointing tech investors.
Still, the shortfall needs to be kept in perspective. Google still posted the biggest year-over-year gain in advertising — even though it already has the largest such revenue — of all the major search engines, said JupiterResearch analyst David Card, with 64 percent growth, compared with 11 percent for Yahoo and 33 percent for Microsoft's MSN division.
Meanwhile, there's little sign that there are any threats to Google's continued rule of the paid search landscape, and there are multiple initiatives in place that will fuel growth in the future, Sterling Market Intelligence Principal Analyst Greg Sterling told the E-Commerce Times.
Google could see long-term growth from multiple sources, he noted, including local search, where Schmidt said in the conference call "remains in the early stages" with ample room for growth and improvement. Google has also made it clear it will be a factor in the mobile paid search market, one that eMarketer said this week could be worth as much as $2 billion by 2011.
"Google is going to be a player in many search areas that are only now getting off the ground," Sterling added.