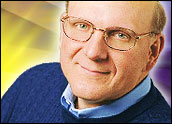 Time to move over, Ballmer. Greenlight Capital President David Einhorn has reportedly called for Microsoft's CEO, Steve Ballmer, to step down. Einhorn spoke on the subject Wednesday at the Ira Sohn Investment Conference in New York City.
Einhorn showed support for Microsoft in general, recommending the company's stock as a "buy" because the company trades at what he called a remarkable discount.
When it came to Ballmer, though, Einhorn insisted the company's chief has filled the CEO position for 10 years and it's time for the board to give someone else a chance.
Red Light From Green Light
Einhorn's company, Greenlight, is a New York-based hedge fund. The company added 1.39 million Microsoft shares in the last quarter, bringing its total stake to 9.07 million, worth $230 million. Einhorn, who is also an investor in Microsoft rival Apple, stated that Ballmer's presence is the biggest overhang on Microsoft's stock.
Einhorn pointed out that Microsoft's biggest problem is within its management and also noted unproductive research and development projects. Einhorn believes that Ballmer is stuck in the past and that he has allowed Microsoft to lag behind in important areas like online search and social networking.
Neither Microsoft nor Greenlight Capital responded to the E-Commerce Times' requests for comments by press time.
If Not Ballmer, Then Who?
Einhorn's complaint raises the question, who can lead Microsoft if Ballmer were to leave the CEO position? This is important time for Microsoft, which is attempting to hold onto its relevance in a rapidly evolving world of technology.
"What David Einhorn is not offering up is, who is going to take Steve Ballmer's place?" Laura DiDio, principal analyst at ITIC, told the E-Commerce Times. "That's the more important piece. We're not talking about the corner drugstore; we're talking about one of the bellwether stocks. Even with its stagnant stock for the past few years, Microsoft remains one of the bellwether stocks in the high-tech industry, and it is still a crucial player in this market. Google passed them and Apple passed them, but they're still in the top five."
Microsoft Cofounder Bill Gates is still chairman of the board and has a major say in the fate of the CEO position. Microsoft is a big company with a slew of moving parts. Plus, Gates happens to like Ballmer.
"They are also in emerging markets and doing well, like robotics, which does not get a lot visibility at this point," said DiDio. "There is a whole channel-partner ecosystem. If you take Steve Ballmer out, who takes his place? Is there someone from within? Would [the] board really oust him? That is not a sure thing since Bill Gates is extraordinarily loyal."
Finding a worthy candidate to head up a company of Microsoft's stature would be no easy task.
"The person would have to know the company and the business model very well, and it would have to be an industry heavyweight," said DiDio. "The person would have to hit the ground running and have a plan. The person would have to be dynamic and understand sales and marketing. They need a rock star. Where do you find someone like that? And who would be willing to take Microsoft on?"
Can Microsoft Keep Missing the Target on Tech?
Microsoft's critics call many of the company's latest offerings sluggish. In some fields, Microsoft has fallen further behind the progress made by tech superstars Apple and Google.
"Microsoft has missed so many industry changes, you have to begin to wonder if a change in management would make a difference," Jim McGregor, chief technology strategist at In-Stat, told the E-Commerce Times. "The investment in the Nokia partnership probably raised some eyebrows."
Over the last few years, Microsoft has expanded into numerous business sectors, enlarging the company to a degree that critics might call bloated and clunky. Market agility may be the company's greatest current challenge.
"The bigger issue is that Microsoft is an aircraft carrier — it is big and very difficult to turn," said McGregor. "It has huge cash cows that continue to generate money for Microsoft, and these cash cows are often at odds with the direction of the market and other groups within Microsoft."
Microsoft need more than just a new CEO, said McGregor. It needs to evaluate its direction. It takes more to shift the culture of a company than just a change of leadership.
"More important than changing the management is changing the vision and the culture, which are both very difficult," said McGregor. "Changing management could help facilitate this, but it would also be accompanied with a period of uncertainty and low productivity as the culture and staff changes. This period could be devastating. So it's difficult to say if a change in management is the right avenue, but it's always an option."