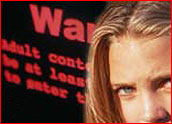 Police in the UK have broken up a Web-based child pornography and pedophilia network, rescuing 31 children in the process and charging some 700 people worldwide with crimes.
Two hundred of the suspects and 15 of the children were located in Britain, according to the UK's Child Exploitation and Online Protection Center.
U.S. investigators helped British police in the sting; however, the groups did not disclose whether any of the others charged were located in the states. In breaking up the ring, the British police used tactics similar to those utilized to track and capture terrorists.
The U.S. Immigration and Customs Enforcement agency could not provide details on the U.S. part of the sting, the group said, citing an ongoing investigation.
Investigators broke up the ring after they became aware of an Internet chat room called "Kids the Light of Our Lives" that featured images — including streaming live video — of children being sexually abused.
In all, 35 countries participated in the sting, including Canada and Australia.
More Arrests?
The investigation is likely to grow because each arrest made resulted in the confiscation of computers and other data from suspects. When investigators examine those confiscated assets, they may find additional evidence that warrants further charges.
Investigators identified the alleged UK-based host of the chat room as Timothy David Martyn Cox, 27. Cox, who used the online handle "Son of God," pleaded guilty to nine counts of possessing and distributing indecent images.
Cox was sentenced to an indeterminate jail term on Monday. He will be detained until he is deemed to no longer be a threat to children, authorities said.
The sentence "serves as a powerful warning to those using the Internet to facilitate the sexual exploitation of children," said Jim Gamble, the executive director of the Child Exploitation and Online Protection Center.
Cox was arrested last fall. Investigators continued to operate the site in a limited capacity, allowing more evidence to be collected. Prosecutors said Cox's computers contained more than 75,000 images of child pornography and evidence that more than 11,000 of those images had been supplied to other Internet sites.
After Cox' arrest, prosecutors said, a second man attempted to revive the chat room. That person, 33-year-old Gordon Mackintosh, has pleaded guilty to 27 charges of making, possessing and distributing indecent images and videos and is currently awaiting sentencing.
Worldwide Problem
The horrific nature of the child exploitation ring and the fact that children as young as a few months old appeared to be involved reflects a troubling trend in the area of Internet-based child pornography, where agencies that monitor child porn saying younger and younger children are appearing in more images showing severe abuse.
"The supposed anonymity of the Internet emboldens child abusers," Peter Robbins, CEO of the Internet Watch Foundation (IWF), told the E-Commerce Times.
The IWF has seen the number of reports to its anonymous hotline increase steadily due to a combination of the group's work with law enforcement and also because more child-pornography sites are appearing online, he noted.
"Unfortunately, commercial sites are having success and that is providing a financial incentive for this abuse to continue," said Robbin, who hailed the work of law enforcement agencies in attempting to keep pace with site hosts who repeatedly jump from one jurisdiction to another to avoid prosecution. In fact, few such sites are hosted in the UK or U.S. today, with site owners often fragmenting collections of images and storing them on servers scattered across places such as Eastern Europe, the IWF said.
In the U.S., a group of high-profile Internet companies banded together last year to help identify and eliminate child pornography. The approach, however, drew some concern from civil rights groups, since those participating — including Microsoft, AOL and ISPs such as Earthlink and United Online, pledged to use automatic scanning technology to identify suspect images.
Even the most robust technology still requires the type of long-term police work that led to the UK sting being broken up after a solid year of investigation, said Frost & Sullivan analyst Mukul Krishna.
"Technology can help, but law enforcement resources are what will make the biggest difference," Krishna added.