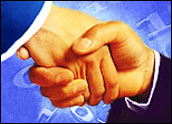 Internet Capital Group, Inc.(Nasdaq: ICGE) gained 2 3/32 to 8 5/32 Friday after directors adopted ashareholder rights plan designed to discourage hostile takeover attempts.
The Wayne, Pennsylvania-based holding company for Internet businesses saidshareholders will receive a dividend of one right for each common share heldas of the close of business December 6th. Each right entitles the holder tobuy one ten-thousandth of a share of junior preferred stock for US$100 in theevent someone acquires — or announces the intent to acquire — 15 percent ormore of the company's common stock.
If Internet Capital is sold or acquired, or if 50 percent or more of its assetsor earning power is sold, shareholders will be able to purchase shares ofthe acquiring company.
The rights plan is "designed to provide the board ofdirectors sufficient time to evaluate proposed change-in-controltransactions by encouraging potential acquirers to negotiate" beforebeginning a tender offer, Internet Capital said.
According to the company, the plan is not intended to prevent transactionson terms that are fair to the shareholders nor deter a potential acquirer willing to complete a transaction on such terms.
Internet Capital has interests in more than 70 companies that providebusiness-to-business (B2B) e-commerce services. Company shares have fallen since the start of the year, and are down from ahigh of 212 set last December.
Earlier this month, the company said it would lay off 35 percent of itsworkforce, taking a $25 million to $30 million charge to fourth-quarterearnings. The company also reported a third-quarter loss that was wider thana year earlier, as its partner companies suffered from a weak environmentfor their services and their stocks.
President and chief executive officer Walter Buckley said the company intends to focus its capital resources on the 15 partner companies it believes have potential toreturn near-term value for shareholders.