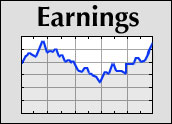 Taking advantage perhaps of lowered expectations, two bellwether technology companies posted strong quarterly results that boosted optimism for the rest of the earnings season and helped lift the tech sector on the stock markets.
Intel and Yahoo both managed to post earnings that exceeded expectations, though in Yahoo's case the numbers were skewed by a windfall from its sale of part of its ownership stake in Google. Intel, meanwhile, might have benefited from a midquarter lowering of its guidance.
Still, both companies impressed Wall Street with their results, and Yahoo fueled optimism even more by raising its fourth quarter outlook. Shares of Yahoo were up 3 percent in morning trading today to US$35.26, while Intel shares rose more than 4 percent to $21.14.
"Expectations may have been a bit low because of all the warnings," Piper Jaffray analyst Safa Rashtchy said. "But regardless, Yahoo has turned in a strong performance to start the earnings season."
However, Yahoo might not necessarily be an indicator of what's to come from other Internet companies. "They've put themselves in a position to leverage their brand and their reach," Rashtchy added.
Yahoo for Yahoo
Yahoo posted earnings of $253.3 million, or 17 cents a share, compared to $65.3 million a year ago. The profit included a one-time cash windfall that occurred when Yahoo sold off most of its stake in Google, but Yahoo would have met targets without that cash factored in, the company said.
Analysts said the proof was in the revenue numbers anyway. Sales rose to $906.7 million, a dramatic jump over the $356.8 million for the same period last year.
Chairman Terry Semel said the latest earnings results "began to demonstrate the next stage in the company's evolution."
That evolution includes a more balanced revenue stream. While advertising sales remained strong, with growth in all phases of marketing services, including paid search, fee-based revenue also rose 31 percent in the quarter. Yahoo cited a positive reception for its co-branded Internet access service with Rogers Cable and strength in premium services such as fantasy football leagues.
Semel said the portal had 157 million registered users at the end of the quarter, up 28 percent from last year, and 7.6 million paid subscribers. In what might be the best news to investors, Yahoo raised its fourth quarter outlook, saying it expects profits for the quarter to top $1 billion, with revenue of around $2.56 billion.
"Yahoo has continued its exceptional run of record growth," Semel said in a conference call.
Chip, Chip Hooray
Intel's earnings are always among the most heavily scrutinized because of the company's role as the dominant company in the chip-making sector, which often leads the way in terms of growth and is the first to show signs of slowdowns.
Recent earnings reports and midquarter forecast adjustments have raised concerns that Intel was seeing a slowdown. For instance, inventories have inched higher, even after price cuts in some chipsets.
Intel did take its fourth quarter outlook down a notch, but investors chose to focus on the strong third quarter, which saw revenues up 15 percent over last year to $8.47 billion for the quarter, edging out expectations. It also beat projections for profit, posting 30 cents per share in earnings, compared to expectations of 27 cents.
CFO Andy Bryant did acknowledge lower demand from PC makers in the third quarter, which often begins a strong season for the chipmaker.
In a conference call, Bryant said Intel had begun to target inventory reduction and to improve the performance of its money-losing communications chip line. "We're starting to see progress in cleaning up the inventory," he said. "As we look into the fourth quarter, we still think there's a little extra inventory in the system. We feel demand's a little softer than you'd seasonally expect."
Foundation Laid
Still, some analysts said Intel has laid the foundation for proving to investors that it can remain profitable, and even grow profits in times when demand is slack. That confidence will be key as Intel heads into a change of leadership next year, when longtime CEO Craig Barrett steps down.
Gartner analyst Martin Reynolds told the E-Commerce Times that Intel has been forced to focus on improving operations across the board in order to smooth out the ebb and flow of demand and as a response to stronger competition from AMD, IBM and others.
"Intel could always count on growth," he said. "If enterprises were weak, consumers were buying. If the U.S. slumped, overseas markets picked up the slack."
Intel remains dominant enough to steer its own destiny in the market, he added, but investors want to see consistent profit growth, regardless of market conditions.
Looking Forward
The tech earnings picture was due to be further fleshed out after the markets close today, when Apple is due to post results. Other tech firms waiting in the wings for this week include Sun Microsystems, Juniper Networks and Nokia, all of which report tomorrow.
EMC, eBay, PeopleSoft and relative newcomer to the quarterly release world Google are all on the docket for next week.