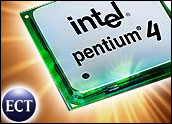 Intel will change its future chip product strategy, moving away from its workhorse and power-hungry Pentium 4 line in favor of the more versatile, mobile-friendly Pentium M design.
Several reports said that Intel would announce as early as today that it would not pursue development of some planned additions to the Pentium 4 chip lines, including the fourth-generation Tejas, due to be available early in 2005, and the Xeon-based Jayhawk, which was to be aimed at the low-end server market.
Intel was said to be redeploying engineers working on development of the new chip lines to other projects. An Intel spokesperson declined to comment when contacted by the E-Commerce Times.
Power Hour
The shift reflects the difficulty in continuing to use the NetBurst architecture of the Pentium 4 to create ever-faster chips without substantially increasing the amount of power they consume. Instead, Intel will seek to build more chips on the Banias architecture for desktop, server and mobile use.
On Monday of next week, Intel is expected to launch three new chips formally in its wildly successful mobile product line, including the Dothan, the next generation of its Pentium M processor.
Intel also plans a media event at San Francisco's SBC Park to highlight the new capabilities of its Centrino laptop technology.
Bigger Picture
Industry analysts have said that Intel probably has been reassessing its long-range plans for the Pentium 4 and other processors for some time and that the shift isn't a response to recent data showing competitor AMD outselling Intel in some markets.
Data from research firm Current Analysis showed AMD outselling Intel in the retail desktop machine category in late April, the first time in five years that Intel wasn't on top in the rankings. Intel still holds a considerable overall market share lead.
Announcing the changes could be a way of keeping customers apprised of Intel's midrange development schedule, which can help Intel customers — such as OEMs — plan for the future.
Faster, But Better?
Intel just released the Prescott subbrand of Pentium 4 chips in February and said at the time that its new architecture would enable even faster speeds going forward. But Intel appears to be recognizing that it can only push speeds so far before it begins to demand more power.
Gartner analyst Martin Reynolds told the E-Commerce Times that Intel and other chipmakers pushed so-called clock-speeds as a measure of chip advancements but are now eager to have all aspects of a processor's performance taken into account.
"The mobile movement has emphasized that speed by itself is not the ultimate goal," Reynolds said.
Ship Away
For its part, AMD launched two new low-power mobile chips in its own Athlon family on Thursday.
The chips, the Athlon 2800-plus and 2700-plus, are the first of Athlon's 64-bit breed to be aimed specifically at thin and light notebook models.