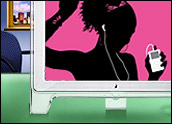 The technology sector roared out of the gate with strong earnings reportsfrom IBM, Yahoo and Apple. Optimism about strong sales and profits wasmuted only by somewhat cautious outlooks for the coming year.
The reports brimmed with good news about the end of 2003. IBM beatexpectations with US$25.9 billion in revenue, a 9 percent jump, anda healthy profit of $2.7 billion.
Meanwhile, Yahoo posted a profit of $75 million. Revenue climbed to $663million, up sharply from $285 million a year ago, as the Web portal rodea rising online advertising tide that drove up marketing income by aneye-popping 178 percent to $545 million.
For its part, Apple said brisk sales of its iPod portable music player andcomputers helped it book revenue of $2 billion, 36 percent higher than lastyear's figure and slightly better than analysts' expectations. The companyalso turned a year-ago loss into a modest profit. Apple said it sold733,000 iPod units and that only inventory shortages prevented itfrom selling more.
Not So Fast?
However, in all cases, the companies seemed to stop short of givinginvestors and market watchers what they most wanted — a 2004 outlookthat is confident and robust enough to justify the strong run-up intech stock prices during the past year.
While Apple said revenues will stay ahead of earlier forecasts, onlyIBM — which delivered its earnings report nearly a week earlier than planned,soundly beating expectations — offered a truly upbeat forecast for 2004. Thecompany said it expects to exceed analysts' estimates for the full year ahead,but added that it will not provide specifics until later in the quarter.
"We enter 2004 with good momentum," Big Blue CEO Sam Palmisano said. "Theclient buying environment is steadily improving. We are enthusiastic aboutour prospects for this year and beyond."
Too Far, Too Fast?
"It becomes a matter of the expectations maybe getting aheadof what is still definitely a strong comeback for technology companies,"Morningstar.com stock analyst Todd Bernier told the E-Commerce Times. "Thefundamentals — profits, revenue increases — are solid. But there's aconcern that investors are counting on a trend line that will be hardto sustain, especially if the economy doesn't do its share."
Bernier said the recent rise in tech stocks reflects both theimproved performances of 2003 as well as expectations of afull-blown recovery this year.
PCs Soar, Too
The tech earnings weigh-ins were backed up by two separate reportshighlighting the PC market's stellar performance at the end of 2003.Both IDC and Gartner said worldwide PC sales rose to record levels inthe fourth quarter, with growth pegged by both firms at about 12 percent.
IDC vice president Roger Kay told the E-Commerce Times that everyonebenefited from lower prices. Computer makers were able to trim costs butmaintain profit margins, and consumers scooped up bargains on notebookand desktop machines.
"The enterprise sector also showed some life at the end of theyear, though it's still not as hot as the consumer side," Kay said. "If thetwo get on the same page in terms of growth, 2004 will be another greatyear for the tech industry as a whole."