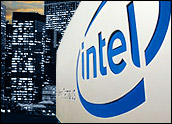 Chip giant Intel has once again preannounced dire financial results — yet another sign of the year-long U.S. recession's heavy toll on the technology industry.
Intel said Wednesday that fourth-quarter revenue will come in at US$8.2 billion, down 20 percent from the third quarter and down 23 percent year-over-year. Intel said the steep drop in revenue is the result of weak semiconductor demand from corporations and consumers.
Intel first preannounced fourth-quarter financial results in November. It will release its full Q4 report on Jan. 15.
Intel will take a massive $950 million non-cash impairment charge on its $1 billion investment in broadband wireless provider Clearwire. Previously, the company had expected to take no more than a $50 million loss on all of its investments. Now, it expects to lose as much as $1.2 billion.
Intel's stock was down 4.07 percent to $14.75 per share in mid-day trading on Wednesday.
Bad News Keeps Coming
Intel's financial warnings do not come as a surprise, given the overall weakness in the economy, said Nathan Brookwood, a research fellow at Insight 64.
The semiconductor sector — particularly the DRAM and flash memory segments — was in trouble even before the recession's impact was felt, Brookwood told the E-Commerce Times.
So many DRAM and flash chips were produced that the bottom fell out of the market last year. Now, the same thing appears to be happening in other semiconductor industry segments, including PCs, mobile phones, digital music players, digital cameras and even high-definition televisions, he said.
"There's nowhere to hide," Brookwood remarked. "It's not going to be fun for anybody for a while."
Even when consumers did spend on Intel-powered PCs and laptops, they opted for cheaper models with less powerful processors, such as netbooks.
Recovery Could Be Far Away
Intel isn't the only chipmaker in trouble. Shares in Advanced Micro Devices, ON Semiconductor, Texas Instruments and Analog Devices are all trading well below their 52-week highs.
When might the industry start to recover?
"I think you can find people all over the map on that," Brookwood said. "There are a substantial number of forecasters that say things will get better in the second half of 2009. There's not much hope for the first half of 2009 because of the massive glut of inventory right now. The general consensus is it will take one or two quarters to work off that overhang."
Recovery depends in large part on when corporate and consumer demand for PCs, laptops, mobile phones, iPods and other handheld digital devices picks up.
"That's much harder to anticipate," said Brookwood, "because it depends so much on the macroeconomic situation. When will consumers start to feel better about their job security and income and their ability to survive the current economic downturn?"
Clearwire Value Goes South
While Wall Street expected Intel to take a hit on its investment in Clearwire due to the deteriorating wireless telecommunications market, a $950 million hit does not mesh with Intel's previous guidance on its investments.
Ultimately, however, the $950 million impairment on Clearwire is a bookkeeping issue.
"Honestly, I'm not sure how big of a deal it is," Robert Burleson, an equity analyst with Canaccord Adams, told the E-Commerce Times. "It's somewhat of a hit to [Intel's] GAAP earnings-per-share, but it's also just a revaluing of the [Clearwire] assets."
What matters more is what the Clearwire assets will be worth if and when Intel decides to sell its stake in the small broadband provider, and that probably won't happen any time soon.
"I think in this market, people are trying not to dispose of undervalued assets," Burleson said. "It just depends on how much pressure a company is under to raise cash, and I don't think Intel is under much pressure in that regard."