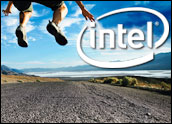 Intel is moving big-time into the tablet business while postponing its smartphone entry until 2012. At least 10 new tablet computers running on Intel chips will be introduced at the computer trade show Computex late this month in Taiwan, according to a report in The Wall Street Journal.
Intel will produce a new chipset, Oak Trail, based on its Atom platform, for the tablet devices.
Intel also announced plans to offer 14nm Atom processors by 2014.
Meanwhile, Intel held an investors meeting on Tuesday in which executives announced the delay of smartphone chips until 2012. The company has been working on smartphone chips since 2009, but so far an Intel-powered smartphone has not emerged. Intel's Atom-based Medfield processor is due to be in smartphones in the beginning of next year.
Ride the Tablet Wave or Get Left Behind
Entry into the tablet fray may be Intel's way of keeping up as technology roars ahead. The tablet market is growing quickly.
"This seems like a familiar story to me," Allen Nogee, principal analyst for wireless technology at In-Stat, told the E-Commerce Times. "Intel pushes into mobile. Intel pushes into tablets. There is no surprise to Intel or anyone that mobility and smaller form-factors are important, but the trick has always been finding a model that works. Apple has come along and done just that with the iPad. That has motivated Intel to aggressively target this space. Not doing so would be viewed as an admission of failure."
Many tablet producers take a different approach from Apple's, which focuses on the iconic iPad. Apple is in a unique position, so it could be the right choice for its competition to have a different approach.
"The strategy that Intel seems to be taking is 'let's throw lots of different tablets into the market and hope some stick,'" said Nogee. "Not a very different approach from many other tablet makers. The problem with such a strategy is that now you just have tons and tons of tablets out there, which means none can get a critical mass against the iPad, and this just confuses the customer more, leading them back to the iPad."
With Apple's iPod, prices went down after a couple of years, due to its popularity and the experience that Apple gained by going through different models. Apple tries to keep an upper hand on competitors that try to emulate its successes by consistently adding innovation to every new model of its products.
"I do think, however, that the glut of tablets that's forming with increased competition [will] quickly bring down the price, but Apple will be ready, because their increasing volumes will also allow them to bring down their price — the difference being Apple will continue to make a profit on their tablets," said Nogee.
Learning Experience
The upcoming launch of 10 or so tablets shows that Intel is serious about producing for the tablet market, and Nogee is convinced Intel will do what it is saying it will do.
"I think they even realize that flooding the market with more tablets, no matter the operating system, will not help gain share," said Nogee. "On the plus side, more work in the tablet area can only help them learn about the tablet market, which can only help them in the long term."
Intel was a major architect in the construction of the PC empire, and it hopes to replicate is success in the new world of portable tablet computing.
"There isn't a question that Intel got to where it is today from the Windows PC revolution," said Nogee. "When almost every aspect of a PC has dramatically dropped in price, the two areas that have stayed high were the processor and the Windows software. Today, those two items make up one of the largest parts of a PC."
Intel is more accustomed to making chips for PCs since it has not gotten into smartphones yet. The company could have to play some catch-up to ARM.
"But the challenge for Intel today is that its mobile processors have trouble matching ARM's in terms of battery efficiency," said Nogee. "This has made ARM hard to catch, and has also lead to ARM having a big advantage in terms of mobile developers [being] familiar with its development tools."
If You Can't Be First, Be Better
In cybertime, 2012 is years away. Putting off an aggressive smartphone move until next year, Intel may look like an old fogey.
"2012 — Wow, they're really rushing," Josh Martin, senior analyst at Strategy Analytics, sarcastically told the E-Commerce Times.
Yet Intel can make its mark if its technology brings something new — or better — to users.
"If Intel can deliver something for the ecosystem or even for hardware manufacturing, they can make a difference," said Martin. "They have to differentiate and bring something to the table."
Intel doesn't need to necessarily deliver new features. A simple improvement on existing features could catapult the company into the smartphone market.
"The fundamental issue is will they be similar to HVC or Motorola?" said Martin. "They don't need to create their own device or create their own ecosystem. All they need to do is optimize what is already out there. There are ways to bring more to the table than they are bringing today, but there are lot of people at the table."