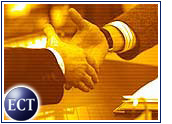 Intel (Nasdaq: INTC) was down US$1.13 at $28.81 in morning trading Monday, erasing an early gain after the chipmaker said it agreed to acquire VxTel, a privately held semiconductor company, for about $550 million in cash.
Intel, the second-most actively traded issue on the Nasdaq Composite Index in the morning, was as high as $30.70 before falling back.
Intel said that the acquisition will provide it with voice-processing technology that can be used in optical networks.
VxTel makes voice over packet (VoP) products, which deliver voice and data communications over optical networks. According to Intel, VxTel's products allow telecom service providers to support more customers with less equipment at a lower cost, while at the same time delivering higher quality service.
"The telecommunications industry is going through a major transition," said Mark Christensen, vice president and general manager of Intel's network communications group. "The convergence of voice and data traffic through a common network enables service providers and carriers to deliver a wide variety of new services, without the cost of expanding and maintaining two different networks."
According to Christensen, VxTel's VoP product and services, together with Intel's family of Internet exchange architecture communications components, will allow its customers to accelerate their network product designs.
Intel said the acquisition is subject to regulatory and other conditions. VxTel, based in Fremont, California, will become part of Intel's network communications division, and VxTel's president and chief executive officer, Shri Dodani, will continue to head the group.
Intel shares have fallen in recent months, amid a slowdown in demand for computers and related products. The company reported net income of $2.2 billion, or 32 cents per share, for the fiscal fourth quarter. The results were below third-quarter levels, and Intel officials said they expect results for the current quarter to continue to be hurt by a slowing economy.