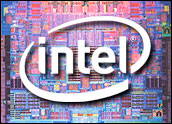 Intel and security vendor Check Point Software Technologies are launching a jointly developed solution they say maximizes Intel chips to produce faster data security products and eliminates bottlenecks that occur when massive amounts of data are filtered through slower processors.
The companies said the new combinations of software and chipsets are a result of more than a year of cooperative development in their Israel-based research and development facilities.
Better and Faster
The solutions will enable companies to install more advanced security features — such as scanning for irregular usage patterns — without any degradation of system performance or the need to use dedicated, security-specific chips.
The advances are based on Intel's dual-core "Woodcrest" Xeon Processors and chipsets, and Check Point's VPN-1 Power security suite, which includes firewall, virtual private network and intrusion prevention applications.
"These are the fruits of a longstanding relationship," Bill Jensen, product marketing manager at Check Point, told the E-Commerce Times. "Basically, we've been focusing on getting security to perform at the speed business really needs it to. As the security business is evolving, companies are trying to put more protections in place, and it's forcing IT shops to do things they might not want to do," he added.
"Basically, businesses recognize there are a lot of neat features, such as intrusion prevention, that are out there, but they can't turn them on because they slow their networks down too much," Jensen explained.
No Dedicated Chips
The approach is more practical and forward-looking than the alternative of using dedicated chips designed specifically to run security applications, according to Jensen. In that situation, when new security products are rolled out, servers with those security chips become obsolete. In the case of the Woodcrest chipsets, those servers that are outgrown can be deployed for a range of other purposes.
"There's always a need for another server somewhere in an organization," he said.
The two companies say they have reached several significant speed benchmarks with the combination, as the security suite is now capable of running at 10GB per second on Intel-based servers, which surpasses the performance of customized security appliances — hardware- and-software-based solutions — that Check Point said can cost several times more to implement than its software-only approach.
The speed considerations are especially important for companies, as an increasing number of them put additional traffic into IP systems, including Voice over IP (VoIP) and video conferencing traffic, Jensen noted. Using IP provides greater flexibility, but the need to encrypt the voice and data traffic increases bandwidth and speed demands.
Big Stakes
Because it worked with Intel on development, Check Point can offer software that takes advantage of the Woodcrest chipset in ways others can't, said Jensen, using a "secret sauce" that includes both software-based acceleration technology and modified BIOS code to boost performance.
For Intel, the security partnership may be a key way to boost interest in the Woodcrest chipset, which it hopes will be a key part of an effort to regain its dominance in the server chip marketplace after some gains by rival Advanced Micro Devices and its Opteron line of server chips. The Woodcrest Xeon chip uses new architecture to boost performance while reducing energy demand, allowing for more power from less server space.
Woodcrest gets Intel back onto comparable performance ground with AMD's Opteron as the two battle for dual-core processor market share on their way to the real battle, which will be fought over quad, or four-processor, chipsets, Illuminata analyst Gordon Haff told the E-Commerce Times.
For Check Point, Jensen said the technology is a boost to its software-only approach, one that will enable its customers to re-use the Woodcrest-based servers elsewhere when they upgrade. Like other security vendors, Check Point has moved to roll multiple security-related services into a single service offering.
"We can say that our customers won't lose the investment in hardware," Jensen said. "In that way, it keeps paying for itself. That gives us a great advantage."