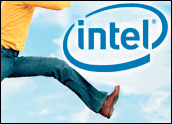 Intel is expected to announce up to 10,000 job cuts as soon as Tuesday, as it moves to adopt a more streamlined and profitable business structure.
The company has made no secret of its intention to implement a major restructuring plan as it moves to restore its slipping profit margins. Intel's goal is to continue developing cutting-edge products in order to fend off the most vigorous competitive threat in a decade from No. 2 chipmakerAdvanced Micro Devices.
Intel Chief Executive Officer Paul Otellini was scheduled to address Intel workers around the world in a webcast. The company may need to cut as much as 10 percent of its workforce, or around 10,000 jobs, to significantly impact its bottom line.
Otellini — tapped last summer to move into the CEO chair from the COO role — may be taking a page from the playbook of relatively new Hewlett-Packard CEO Mark Hurd. HP could see as many as 15,000 job cuts as part of a sweeping restructuring that has already paid dividends, with the company gaining on rival Dell.
The cuts end nearly three straight years of strong job gains for Intel and are expected to trim the company's workforce worldwide. Key research and development programs, manufacturing areas of the business, and management are expected to be spared the deepest cuts, while marketing and related back-office support functions are possibly in line for more layoffs.
Revamp Inside
Intel declined to comment, and no formal announcement had been made as of midday Tuesday. Confirmation of the cuts was expected to surface after the stock market's close later in the day. Intel shares were down 7 US cents, or 0.3 percent, in midday trading to $19.81.
Otellini promised to take drastic action after saying in April that Intel's sales were on track to fall this year for the first time in recent memory. He acknowledged the company was losing market share to AMD. That erosion of market share was coming despite Apple's decision to shift from IBM-made processors to Intel chips for its desktop and notebook computers.
The revamp at Intel has already spurred the sale of some business lines — especially in the communications chip area — that were less profitable for Intel. It recently sold some communications assets to Texas-based Eicon, and in June sold its mobile processor business to California-based Marvell Technology Group for $600 million.
The sales came at steep discounts compared to the prices Intel paid when it acquired the non-core assets, many of them bought during the dot-com boom.
Otellini has overseen a major shift in the company's marketing approach, shelving the "Intel Inside" tagline and logo for "Leap Ahead," which is meant to help consumers associate Intel with progressive technology that goes beyond the PC to include home entertainment and other devices.
Answering AMD
Intel's flash business may see targeted cuts aimed at trying to bring it into profitability, according to Merrill Lynch analyst Joe Osha. More speculative research projects — what he termed "poorly focused science projects" — may also be shelved, though it's unlikely Intel will cut deeply in research and development overall.
"Intel has very limited ability to cut either product development or marketing costs without imperiling the business recovery the company hopes to achieve," Osha said in a research note.
Intel has already fired some 1,000 management workers and shifted around some top executives.
The competition from AMD is the main driver of the changes, since it has made some significant recent gains in the core PC and server chip sales arena. Before the latest onslaught, Intel had been able to keep its market share dominance in that area locked in for many years, using its size to offer beneficial pricing to PC makers.
More recently, however, some PC manufacturers have begun to offer AMD alongside their Intel-based machines.
Intel may have won the market tug-of-war over the summer, with its share rising to 53 percent in July compared to 51 percent in June, suggests a report released Tuesday by research firm Current Analysis. The sales figures only include retail sales of PCs to consumers, however.
"The battle between Intel and AMD will intensify for the remainder of the second half of 2006," said senior analyst Toni Duboise. "Only time will tell whether Intel's resurgence can be likened to the waking of a sleeping giant."