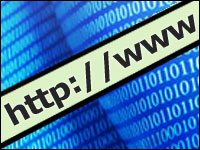 You may soon be able to get a designer Internet address — e.g., you.yourname — for a mere US$185,000.
The Internet Corporation for Assigned Names and Numbers (ICANN) board of directors has approved a plan to implement some of the biggest changes ever to the Internet's Domain Name System. The board approved a plan to allow an increase in the number of Internet address endings, also known as generic top-level domains (gTLDs), from the current 22, which include the standard ".com," ".net" and ".org."
Internet address names will be able to end in almost any word in any language, drastically changing the way people find information online.
ICANN has opened the Internet's naming system to unleash the global human imagination, said president and CEO Rod Beckstrom.
The decision came after years of discussion and deliberation among representatives of the online community, business groups and governments. Efforts were made to address concerns of involved parties and ensure security, stability and resiliency.
ICANN is beginning a global communications program to tell the world about this change in domain names and raise awareness about the possibilities regarding gTLDs.
Applications for new gTLDs will be accepted beginning on Jan. 12. The cost will be $185,000 to acquire a new suffix, and applicants will need to provide a legitimate claim to the name they are buying, which will discourage cybersquatting, a common practice during the early dot-com days.
ICANN did not respond to the E-Commerce Times' request for comments by press time.
ICANN Cash Grab
At the very least, the new process of handing out suffixes will enable ICANN to generate some cash.
"It's a great way for ICANN to generate substantial new revenues, but anything beyond that eludes me," Charles King, principal analyst at Pund-IT, told the E-Commerce Times. "I can't say I've heard anyone in the market clamoring for this, and the only folks likely to participate — or care about it — are very large companies or speculators with money to burn."
The cost could deter some companies from hopping on board initially. For many organizations, the revenue gained from the change may not be worth the thousands required to implement it.
"Hypothetically, companies or organizations could use the new domains to strengthen or cement their online brands or presence," said King. "On the downside, it's difficult to see how this would be more effective than current domain naming methodologies, especially given the cost. But in order to protect themselves from speculators or squatters, companies and high- profile individuals may feel compelled to buy and maintain related domains."
Possible Security Issues
The board's ruling will open new possibilities for Internet communities in developing countries by providing additional alphabetical characters. The new range of names, however, could also cause confusion for users.
"I think that the ICANN's decision does two things: It dramatically broadens the number of legal names for Internet addresses, while potentially increasing consumer confusion by the same amount," Carl Howe, director of anywhere consumer research at the Yankee Group, told the E-Commerce Times.
"The good news about this decision is that many more domains will be available in non-Roman alphabets. So if you are a budding entrepreneur in China or Russia, this is great news."
The new suffixes could give scammers a new way to trick customers, however. There will be a wider range of deceptive possibilities for cloaking spam. Of course, the $185,000 price tag could be a spam deterrent.
"The bad news for consumers is that they will find it much harder to discriminate between legitimate Internet brands and those that want to deceive consumers," said Howe.
"Today, consumers are pretty sure that "AmericanExpress.com" is a legitimate credit card business. However, those consumers will be a lot less certain about emails from yourfriends.AmericanExpress or yourbroker.American.Express. The larger numbers of domain addresses will make it much harder for consumers to know when someone is impersonating or spoofing a legitimate business."