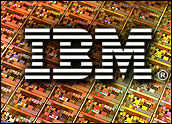 IBM posted strong fourth quarter results Monday, beating profits and sales targets as it rode to the rescue of a sagging stock market by providing renewed optimism about technology earnings.
Big Blue's profit rose 24 percent to US$2.80 per share in the fourth quarter of 2007 while revenue increased 10 percent to $28.9 billion. For the full year, IBM posted an 18 percent increase in profit to $7.18 per share when compared with the full year 2006, and an 8 percent revenue boost to $98.8 billion.
The company did benefit from currency exchange rate fluctuations, and its full-year results gained significantly from a one-time windfall connected to the sale of its printing services division. Still, the results were enough to leapfrog analyst estimates.
Helping the Market
The company's stock surged on the news, rising 6 percent in morning trading to $103.49. In turn, Big Blue pulled up the overall stock market as well, reversing a trend of strong sell-offs that continued through much of last week amid concern that the U.S. economy had fallen into a recession.
The Armonk, N.Y.-based company will report full earnings Jan. 17.
"The broad scope of IBM's global business — led by strong operational performance in Asia, Europe and emerging countries"drove the results, commented Chairman and CEO Samuel Palmisano.
"IBM is well-positioned as we begin 2008 as a result of our global business reach, solid recurring revenue stream and strong financial position," Palmisano.
Key Year Ahead
IBM ended 2007 with $16 billion in cash in reserve, a significant war chest that may enable the company to continue its recent buying spree that has seen it roll up a number of software companies as it reinvents itself yet again and plans to drive more profit from software sales and support services.
Under Palmisano, IBM has sold off its PC unit and its printing services business and at the same time scooped up scores of small software firms and a few larger concerns to create broad offerings that extend its reach from middleware and applications to security and storage.
Palmisano has said that the transformation will pay off handsomely for shareholders, with IBM aiming to boost profit rates by as much as 50 percent between 2007 and 2010.
"We are on track to achieve our long-term earnings-per-share road map objective in 2010," the CEO noted Monday. IBM is hoping to produce earnings of $11 per share that year, compared with 2007 results of $7.18 per share.
Software is a key part of that, with its recurring revenue streams and need for integration and other support services, UBS analyst Ben Reitzes told the E-Commerce Times. Though IBM's pace of acquisition slowed some in 2007, it is likely to seek out new opportunities, with an eye toward filling in service offerings.
"They have set the bar high for themselves, and the way they're going to get there is largely through software," Reitzes said. In fact, though IBM did not give full details of its quarter, hardware sales have been sagging in recent quarters and, even if revenue increases, profit margins remain relatively small from that part of the business.
IBM noted last fall it would spend $1.5 billion to create a more comprehensive security offering as it seeks to leverage buys such as the purchase of Internet Security Systems, which it grabbed in mid-2006 for $1.3 billion. "It can clearly afford to invest in those consolidations as well as in new companies if it sees the right ones out there," Reitzes added.
Financial Services Exposure
Somewhat ironically, it was an IBM earnings release late in 2007 that began to spark speculation that technology spending by corporations was poised to slow markedly and that the sector was headed for a rough patch.
IBM has said that some of its customers in the financial services and banking arena had decreased their spending, denting sales of mainframe computers, for instance. That raised the prospect of the subprime mortgage and ensuing credit crisis reaching back to tech vendors.
Now, the fact that IBM rebounded nicely may be a sign that trend isn't developing as feared. "This is a powerful data point, given IBM's unfavorable financial services exposure," JP Morgan analyst Bill Shope wrote in a research note Monday.
More than a quarter of IBM's revenue comes from the sector and "the fact that the company could exceed expectations in this environment is very encouraging," Shope wrote, adding fellow tech giants such as HP and EMC may now be able to follow suit with strong results.
A slowdown in spending by large enterprises would have a significant impact on the tech sector overall, but some companies are diversified enough to weather a short-term downturn, said Gartner analyst Martin Reynolds.
IBM recently unveiled a China-focused Software as a Service offering and is among the companies with the most geographical reach, giving it exposure into both growing and slowing economies at the same time.
"A North American slowdown hurts, but their investments in product and regional diversity may help earnings weather the storm," Reynolds told the E-Commerce Times.