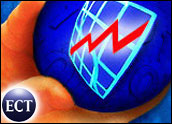 Signaling that 2004 likely will be a year of solid growth for the technology industry, IBM has raised its hiring forecast, saying it plans to hire 15,000 new employees in the coming year.
The new outlook represents a 50 percent increase in the amount of hiring Big Blue envisions. Last fall, IBM indicated it could add up to 10,000 new workers in key areas in preparation for increased demand from its worldwide customer base.
The 15,000 workers would represent a 5 percent expansion in IBM's worldwide workforce, which could grow to 330,000 by year's end.
IBM has said it expects the jobs to be focused in several key areas, including Linux installations and integration, and is prepared to spend up to $200 million to train new and existing employees.
Back in the U.S.
The company gave some assurances that at least a portion of the new jobs — up to 5,000 — will be added in the United States, a nod to concerns raised about its plans to outsource more jobs to cut costs.
However, the Armonk, New York-based firm also has acknowledged that as many as 5,000 software programming jobs will be established in overseas locations as it seeks to tap into deepening talent pools in India and elsewhere.
If the hiring comes to pass, it could help cement technology's dramatic comeback from the depths of the post dot-com bubble.
To date, however, the tech rebound, like the overall economy, has been largely jobless, with companies leveraging the increased productivity made possible by organizational streamlining and advances in technology to produce more without adding to the workforce.
The Whole Iceberg?
John A. Challenger, CEO of Challenger, Gray & Christmas, told the E-Commerce Times that despite predictions of strong economic expansion in 2004, tech-sector hiring may remain muted. Number two chipmaker AMD has indicated it plans to expand its payroll this year, but few other companies have followed suit, and some, such as AOL and Sun Microsystems, have continued to pare their workforces.
According to Challenger's firm, about 228,000 technology jobs were cut in 2003, about half as many as in 2002. While there was a late surge in layoffs in the fourth quarter, when 82,000 jobs were slashed, the sector has stabilized and is positioned to start adding jobs again.
"There seems to be little pent-up demand for technology workers, but that could be changing slightly," Challenger said. "The real wildcard is how many companies are turning to less costly offshore outsourcing to get the job done."
Outsource, of Course
In addition to affecting overall U.S. hiring levels, outsourcing also may help drive technology salaries lower, Challenger added, a trend that could be hard to swallow for workers who saw their incomes skyrocket during the tech boom.
"There's going to be a period of adjustment," he said. "The hiring done during this economic cycle will not bring to mind the 1990s for anyone. In another three or four years, however — that next cycle will be the one where employees are again in the driver's seat."
IBM's ramped-up hiring forecast came just days after it turned in an impressive financial performance for the last three months of 2003 and gave a measured but upbeat financial outlook for 2004.