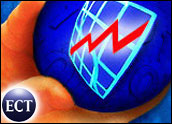 Saying it is seeing the most concrete signs to date that an economic recovery is taking hold, IBM has indicated it could reverse more than two years of layoffs by adding as many as 10,000 jobs in 2004.
"We are beginning to see signs that the economy has stabilized," said CEO Samuel J. Palmisano. "As we look to 2004, more customers are expected to increase their investments in information technology."
In addition to hiring new workers, IBM plans to invest US$200 million to train existing workers in specialties such as high-value consulting services, middleware technologies and open-source hardware and software, especially Linux.
"We see the need for approximately 10,000 new positions in key skill areas," Palmisano added. "Although it is too early to say that a rebound is at hand, we are confident that we will benefit from both a pickup in IT spending and an economic recovery."
Shooting Par
The positive job news came as IBM announced it had met expectations for its third quarter, posting income of $1.8 billion on revenues of $21.5 billion, an increase of 9 percent from the same time frame in 2002.
Although IBM was upbeat about its results, the company acknowledged that services and sales of certain hardware powered the revenue engine, rather than a strong across-the-board lift.
Big Blue's Global Services unit saw revenue rise 17 percent, and the company signed contracts worth $15 billion in the quarter, growing its backlog of consulting work to more than $115 billion.
Software sales also climbed, paced by a 12 percent jump in WebSphere sales, a 14 percent uptick in DB2 sales, a 9 percent rise in Lotus sales and a 25 percent bump in sales of Tivoli software. New revenue from Rational, which IBM acquired earlier this year, made up more than one-third of total growth in the middleware segment, the company said.
By contrast, hardware revenues fell 1 percent.
Reverse the Trend
IBM has been shedding jobs since the economic downturn began; in fact, the company said during the summer of 2002 that over time, its cost-cutting could lead to as many as 15,000 layoffs. One major wave of job cuts occurred as Big Blue integrated its acquisition of PricewaterhouseCoopers. Others have come from smaller plant closings in Vermont and elsewhere over the past year as the company shifted its product mix.
John A. Challenger, CEO of outplacement firm Challenger, Gray & Christmas, told the E-Commerce Times that IBM's latest news fits with other signs that information technology hiring could pick up next year.
"The numbers are definitely heading in a positive direction," Challenger said. The news will be best for workers who are already employed, as their chances of being laid off are far lower than just a few months ago. At the end of the third quarter, he noted, the number of high-tech layoffs in 2003 stood at about 146,000, down 56 percent from the same time in 2002.
The rebound probably will be muted compared with the frenetic pace of job growth in the late 1990s, he added. "We may not see a return to pre-recession hiring levels, but there are some indications that increased hiring is on the horizon," Challenger said.