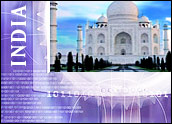 IBM said Tuesday it would triple the amount it spends to build out its India operations over the next three years, spending US$6 billion to hire workers and build research labs and other facilities.
CEO Samuel J. Palmisano announced the planned investment during a speech to some 10,000 of IBM's 43,000 India-based workers, a presentation also attended by Indian President A.P.J. Abdul Kalam.
"India and other emerging economies are an increasingly important part of IBM's global success," Palmisano said. "If you are not here in India, making the right investments and finding and developing the best employees and business partners, then you won't be able to combine the skills and expertise here with skills and expertise from around the world, in ways that can help our clients be successful.
"I'm here today to say that IBM is not going to miss this opportunity," he added. The talk was part of a two-day analyst presentation, marking the first time the company has held such a briefing in India, with dozens of Wall Street analysts traveling to India to see IBM's operations there first-hand.
Big Blue has already sunk some $2 billion into expanding in India since 2003, which now represents the company's second-largest country organization outside the U.S, with employees in 14 cities, including Delhi, Bangalore, Mumbai, Kolkata and Pune. The company, which left India in 1978 due to political unrest but returned in the early 1990s, has grown its workforce there by nearly four-fold in the past four years.
Broad Plans Unveiled
Palmisano said IBM would establish a Service Delivery Center in Bangalore, where IT services would be delivered to customers worldwide who want to take advantage of lower-cost, skilled labor and around-the-clock availability. The company also plans to build a briefing center for its Systems & Technology Group where new solutions can be tested.
IBM will also set up a research center focused on solutions for the telecommunications industry, which analysts say is an increasingly important customer base for IBM, and expand other existing R&D labs to do more software and systems development work there.
It will also invest in keeping the flow of engineering talent strong, launching what it calls "The Great Mind Challenge," which will task students at India's engineering schools with developing software based on project scenarios created by IBM. The top 20 resulting projects will be made available to end users for free, IBM said.
A major part of the Indian expansion is to allow Big Blue to offer more around-the-clock service to its employees, using its worldwide network of software developers to speed project completion by having workers in India picking up a project after engineers in the U.S. or elsewhere have knocked off for the day.
It will also seek to use India as a base for advanced IT outsourcing and network control work and will use technology developed in India in other services delivery centers around the world.
Plenty of Company
While some in the tech community say China may eventually become an even more attractive overseas location for technology companies, the rush to set up shop in India could cause a labor shortage there over time. U.S. companies continue to invest heavily in India as well, drawn by its strong pool of qualified labor, its low business costs and a friendly government.
Dell recently said it would double its workforce in India, hiring an additional 10,000 employees in both customer service and research positions and moving to establish manufacturing facilities there over time as it targets emerging markets with more of its products.
India is becoming increasingly important for IBM not only as a base of operations but also for revenue growth, with analysts estimating that sales in India grew more than 60 percent in the first quarter of 2006, compared to 4 percent growth worldwide.
Big Blue needs to invest in India because cost-cutting is important to its long-range health as a company, UBS analyst Benjamin Reitzes said.
"IBM's management team can excel in cost cutting," Reitzes said, adding that many see "long-term concerns" for IBM's services unit, a part of the business that helped keep the company in the black after the dot-com collapse but has been seen slowing more recently.