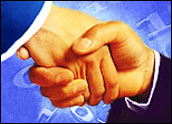 IBM on Wednesday announced a five-year, US$194 million agreement to provide electronic payments processor TSYS with hardware, software and other services.
The agreement extends a technology relationship between the two industry giants that spans 20 years, according to TSYS spokesperson Eric Bruner. This is the largest deal in the Columbus, Georgia-based company's history.
"With IBM's solutions, we will be able to offer our clients 20 percent faster processing speeds," Bruner told the E-Commerce Times. "We also will be able to implement customized enhancements for our clients much faster than in the past."
Powering Payments
Under the terms of the deal, TSYS' business operations will be powered by a range of IBM technology, including zSeries mainframe processors, TotalStorage 349 Automated Tape Library and TotalStorage Enterprise Storage Server. The new hardware will reduce the number of TSYS servers required by 35 percent and will increase data processing power.
Bruner said TSYS currently can process more than 14 billion instructions per second, with about 70 terabytes of storage capacity in its data centers.
The multimillion-dollar IBM deployments will allow TSYS to service about 21 billion instructions per second, with each mainframe device processing about 1.6 billion per second, according to the companies.
"We are getting a substantial increase in capacity, and that is going to translate into greater control and management of our short-term and long-term operating expenses," Bruner said.
Spotlight on Software
Software updates will include installation of Big Blue's e-infrastructure products, such as DB2 database software. Bruner said the goals are to streamline business processes, improve productivity and more efficiently manage transactions to improve customer service.
As part of the deal, IBM Global Services will assist and support the software implementation and will manage more than 2,000 hours of education and training for TSYS team members. IBM Global Financing will finance the hardware and services.
When implementation is complete in 2006, TSYS reportedly will rank among IBM's 25 highest-capacity clients in the United States and among the top 50 worldwide.
Slew of Activity
TSYS is not the only company spending big bucks on IT. IBM has closed four other technology deals in the past two weeks.
According to one of those deals, Big Blue will deliver products and services to the oil and gas industry in partnership with Landmark Graphics. The two companies will provide Linux for use in desktop advanced 3D graphics, server and mobile computing, and advanced cluster technology for high-end supercomputing applications.
In another deal, TALPX, a service provider in the building supplies industry, selected IBM WebSphere as the foundation for its online trading system.
Meanwhile, Sherwin-Williams and Colgate-Palmolive both chose IBM to provide the technology infrastructure for their operations.
Seeds of a Rebound?
Is this a tangible beginning of the long-awaited IT spending rebound?
Forrester analyst Carl Howe told the E-Commerce Times in an earlier interview that he expects the technology industry will see a single-digit spending increase this year — not a major boom, but enough to keep companies going. He noted that analysts are not looking for a return to 1999 levels.
"Technology rebounds will be much more sane and much more ROI-driven, and that's probably a good thing," Howe said.