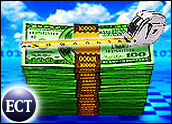 After posting disappointing financial results and warning Wall Street that it would be tough to meet forecasts, IBM plans to cut US$1 billion to $2 billion in costs starting this year, company CEO Sam Palmisano told financial analysts.
Newcomer Palmisano, who took the reins from storied IBM leader Lou Gerstner on March 1st, stressed the importance of the cost-cutting measures and said IBM has been hammered by a significant drop in IT spending.
Palmisano stopped short of detailing exactly how IBM will cut costs, though word is that the company plans to cut between 8,000 and 10,000 employees from its 318,000-strong workforce.
Harry Tse, vice president of research at the Yankee Group, told the E-Commerce Times that "IBM had to do something" to get future earnings more in line with forecasts.
Strong vs. Weak
IBM said it intends to fix its flagging businesses, noting that while it is strong in some areas it has seen other divisions, such as its personal computer and semiconductor businesses, decline or stagnate. The semiconductor business, in particular, has taken a dramatic dive.
In its presentation to analysts, Big Blue cited host software, maintenance and financing as areas of strength and referred to PC profitability, hard disk drives and productivity as "operational challenges."
Big Blue already has partially offloaded its hard drive business in a deal with Hitachi. That move will shift 17,000 employees from under the IBM umbrella to the new venture.
'Disappointing' Showing
Under Gerstner's leadership, IBM generated quarter-over-quarter earnings growth for several years, even as revenue stayed relatively static. And despite its current troubles, Big Blue still did better than some companies in the first quarter of 2002.
"Even in this tough climate, we generated $1.7 billion in pretax income, we had very strong services signings of more than $15 billion, and we believe we gained or held share in high-priority segments of services, software, servers and advanced storage products," Palmisano said.
"We're pleased that despite the difficult business conditions, IBM continued to outpace the competition."
Still, when he announced the earnings in a teleconference with analysts, Palmisano acknowledged that the showing was "disappointing."
Tough Times Hurt
Palmisano's approach to resolving IBM's problems and keeping the company on a growth track is not expected to differ greatly from Gerstner's, but he will have to contend with continued tough times in the near term.
In common with other tech companies, IBM has been hit hard as tech spending dropped precipitously during the economy's steep downward slide.
In the first quarter, the company's diluted earnings per share fell 31 percent from the year-ago period to 68 cents. Net income in the first quarter totaled $1.19 billion, a 32 percent decline from the $1.75 billion recorded in the first quarter of 2001.
IBM shares were up slightly to $84.79 in midday trading Thursday. Since the beginning of the year, the company's shares have lost 30 percent of their value.