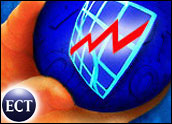 Worldwide shipments of servers grew 12.2 percent while revenue grew 5.7 percent in the second quarter, according to new data released by Gartner.
Server vendors including Dell, IBM, Sun Microsystems and HP shipped 2.3 million units during the quarter, generating sales of US$13.8 billion.
IBM Leads the Pack
IBM held onto its position as the industry leader with a 31.2 percent share of the market and $4.3 billion in sales. Next was HP with 27.6 percent of the market and $3.8 billion in sales. Dell stood at third place with 13 percent of the market and $1.8 billion in sales, according to Gartner data.
Though it came in third in terms of revenue, Dell was the fastest-growing vendor, with 15 percent year-over-year sales growth.
Meanwhile, Sun continued to struggle. The Santa Clara, Calif.-based server maker came in fourth with 11.8 percent of the market and $1.6 billion in sales, down nearly 7 percent year over year.
The only other vendor to experience a revenue decline was Fujitsu/Fujitsu Siemens, which had $492 million in sales, a 0.1 percent year-over-year drop.
Web Content Drives Server Sales
Though the overall economy is shaky, a number of factors have conspired to drive server sales.
"We're still having the build-out for Web-related kinds of content," Gartner Research VP Jeffrey Hewitt told the E-Commerce Times. "There's a battle between Google, Yahoo, Amazon, eBay and Microsoft to generate more content for the Web. Microsoft is trying to build out a huge cloud of infrastructure with x86 servers to support that."
Large businesses are also in the midst of replacing older server systems with newer and more efficient technologies.
"Replacement cycles of other products — like mainframes and Unix servers — are generating sales," Hewitt said, "and the company executing the best on that has been IBM. IBM had a relatively good quarter worldwide. That helped them in the revenue area."
Armonk, N.Y.-based IBM had solid increases in the sales of its System p and System z mainframes. The System z, or Z10, is touted by Big Blue as more energy efficient than other data storage and networking technologies on the market.
"We launched the Z10 mainframe system in February 2008," IBM spokesperson Mylissa Tsai told the E-Commerce Times. "That system alone has the capacity to replace nearly 1,500 x86 servers with a smaller footprint, lower energy costs and much higher security control and automation."
Sun Struggles
Sun's market share in the server market declined from 13.4 percent in the second quarter of 2007 to 11.8 percent during the same quarter this year, and the problem appears to be one of execution, not technology.
"Sun has tried to be innovative, but if I compare them to an HP, HP is really focused on business," Gartner's Hewitt said. "I'm wondering about Sun related to servers and whether they're focused on execution. They need to really execute effectively in these markets. They have a lot going on technologically, but they need a stronger focus on taking those advantages and turning them into business results."
U.S. vs. Europe and Asia
"U.S. performance, in general, isn't as strong as the worldwide market," Hewitt said. "First, the server market is a trailing indicator of economic issues and usually trails it by two or three quarters because the purchase cycle for server technology is so long. It can take up to two years, in an extreme example, for a business to complete a big server purchase."
However, regions outside the U.S. are flourishing.
"Western Europe is still growing, and I see emerging markets growing at higher percentage rates than the U.S., namely Eastern Europe, China and India," Hewitt said.