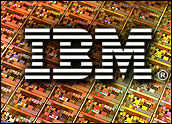 IBM continued its recent run of strong growth in the second quarter, posting a double-digit profit increase on strong sales fueled by service and software.
Big Blue's net income rose 12 percent to US$2.26 billion, or $1.55 a share, from $2.02 billion, or $1.30, a year earlier, the Armonk, N.Y.-based company said Thursday.
The company's second-quarter sales gained 8.6 percent to $23.8 billion, beating the average analyst estimate in a Bloomberg survey. Software sales rose 13 percent; services posted a 10 percent growth rate.
Consecutive Growth
The quarter was IBM's best in terms of revenue growth since 2001, said CEO Samuel Palmisano.
The results "demonstrate the strength of our business model and our ability to achieve profitable growth and strong cash generation," he noted. Referring to a strategic road map released earlier this year to log strong earnings growth through 2010, Palmisano said the first two quarters of 2007 show "solid progress on major elements of this road map, including earnings growth, margin expansion and revenue growth in key areas: emerging markets, acquisitions and service-oriented architecture opportunities."
In fact, IBM's profit margin rose for the 12th straight quarter on a year-over-year basis, the company said.
The bottom line also received a one-time boost of around $81 from IBM's sale of its printing division to Ricoh, a deal that closed during the quarter.
Services Surprise
IBM had preannounced some of the results. Still, investors were enthusiastic in their response, driving up IBM shares nearly 5 percent in early trading Thursday. By midday, the stock was still up 4.3 percent to $115.92, a price that would represent a new 52-week high for the stock.
Big Blue managed to find growth in all regions, with sales up 6 percent in North and South America, 13 percent in the Europe, Middle East and Africa region and 10 percent in Asia.
The uptick in services revenue is a good sign for IBM, said ThinkEquity Partners analyst Eric Ross. In the first quarter, revenue from that key part of the business was nearly flat.
"I don't think the growth in the services business was widely expected," Ross told the E-Commerce Times. "People were focused on the software gains, but IBM put up numbers in multiple areas."
Earlier this week, IBM announced it had signed a $1.4 billion deal to provide IT services to AstraZeneca. All told, IBM said it signed services contracts totaling $11.7 billion, up 22 percent year, and ended the quarter with a backlog of some $116 billion worth of work to be completed, an increase of $7 billion over last year.
On the other hand, IBM has drawn plenty of attention to the growth in software and has underscored its commitment to growing that business further through additional acquisitions, including several announced in recent weeks. "Software is clearly going to be an engine for both growth and profits for IBM," Ross noted.
Within software, IBM's middleware lines such as WebSphere and Lotus remained king, accounting for more than 50 percent of revenue.
Growing Earnings
IBM continues to round out its software portfolio, which has grown through more than two dozen acquisitions over the past four years. The most recent came this week when IBM bought DataMirror, a Canadian firm that offers data backup and manipulation tools.
IBM believes it can boost profit margins long-term by garnering more revenue from software. The strategy is also boosting the rest of IBM's business lines, Gartner analyst Martin Reynolds told the E-Commerce Times.
"What makes IBM the software maker somewhat unique is that it has the services and hardware to support and integrate its tools and build complete solutions," he said. "It's taken a long time for the On Demand strategy to round into shape, but it looks like it's starting to take hold.
Not surprisingly, the hardware division had the slowest growth, but still managed to post higher sales, with revenue from that unit up 1.8 percent to $5 billion.
Boosting Predictions
The results enabled IBM to boost its prediction for full-year earnings growth, said company Chief Financial Officer Mark Loughridge. The company now says earnings will grow as much as 14 to 15 percent, ahead of the 13 to 14 percent it predicted just two months ago.
"Every CFO waits for a quarter like this," Loughridge said during a conference call to discuss the results. "No two ways about it, this was a great quarter."
In response to a question about the economic conditions IBM is seeing, Loughridge said during the early part of the quarter, in March, the company thought conditions, particularly in the U.S., were deteriorating. Later in the quarter, however, "what we saw towards the end of the quarter was that actually the economy was much more balanced than you might have seen in March."