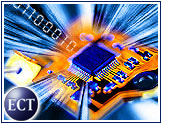 IBM has unveiled a chip that can process data at twice the rate of the 32-bit PC processors currently in use. According to published reports, the new chip may power Apple desktop computers and servers in the future.
IBM said its PowerPC 970 — the first in the company's planned line of high-end PowerPC processors — is a 64-bit chip that will run at initial speeds of up to 1.8 GHz.
The company is expected to release further details about the chip this week at the Microprocessor Forum in San Jose, California.
Power Over Speed
The chip's release may signal a shift from emphasizing processor speed to focusing on the workloads a processor can handle. The PowerPC 970 is expected to allow speedier handling of intensive graphics and other advanced applications.
IBM, which used its Power4 server processor as a basis for designing the new chip, said the PowerPC 970 will be used in desktops, workstations, servers and other communications products. It also will be compatible with 32-bit applications.
Michel Mayer, general manager of IBM's Microelectronics Division, said the company is committed to designing advanced chips and to the manufacturing technology required to build them.
IBM is expected to manufacture the chip at its plant in East Fishkill, New York, using 130-nanometer technology. The chip is slated to become available next year.
The company has said it expects to switch to a 90-nanometer manufacturing process to increase the chip's computing capabilities, though it has not said when that will occur.
Apple Likely Candidate
Published reports indicate that Apple, which has battled public perceptions that its chips are slower than their PC counterparts, may be considering switching to IBM's new offering instead of sticking with the Motorola microprocessors it has used in most of its machines since 1984.
Aberdeen Group director of semiconductors Russ Craig told the E-Commerce Times that Apple is one of the most likely candidates for the 64-bit offering.
"With its publishing markets in particular, having the 64-bit architecture might well speed up some of those graphic applications, which are extremely computing-intensive," Craig said.
Gartner semiconductor analyst Joe Byrne also told the E-Commerce Times that he believes it would make sense for Apple to adopt a 64-bit chip, especially one that offers backward compatibility.
Apple was unable or unwilling to comment.
64-Bit Trend?
Craig acknowledged that the majority of PC users currently are using32-bit processors and may not require amped-up capabilities. Therefore, he said, the 64-bit offering remains a "niche market" at present.
"It's [a] more clock cycles for less money trend," Craig said, noting thatthe real beneficiaries of the 64-bit chip will be users of workstations and servers that perform intensive data processing.
Of course, the battle has only just begun. AMD is set to release its own 64-bit architecture on its Hammer chip by the end of this year, and Microsoft is preparing to launch its Windows operating system for 64-bit machines.
All in the Numbers?
Intel's 64-bit Itanium chip has been on the market for several months, but according to Byrne, it has yet to take hold in the space, leaving an opportunity for IBM to take its position.
Byrne also said he believes consumers will respond positively to the increased number describing the chip's power, even though the processor speed of 1.8 GHz does not outclass that of other processors.
"People generally understand that bigger equals better. All things being equal, I would expect someone to prefer the 64-bit products," he said.