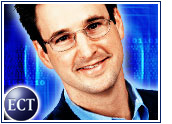 Marius Haas, vice president of worldwide e-business mindshare at Hewlett-Packard, worked for Compaq for seven years before that company merged with HP. He also led efforts to integrate both companies' e-business groups during the nine months preceding the official merger. According to Haas, that integration has gone well.
For example, Haas' division has aggressively set up online partnerships with a host of high-profile companies, including Yahoo, CNET, Disney, Amazon.com and eBay, in order to win mindshare among individuals and enterprises.
Haas sat down with the E-Commerce Times to discuss how his group plans and implements online advertising campaigns and to offer advice to would-be online advertisers.
E-Commerce Times: What steps or series of steps do you take when planning an online advertising campaign?
Haas: The first step we take is understanding the needs of the different product groups that we have within the company. Then we start looking at which destination sites provide us with the greatest return, which provide us with the greatest access to the customer segment and the profile that we're looking for. We've done business with almost all of [the major destination sites] over the last three to five years, so we have good experience in understanding where we need to go for a particular campaign.
E-Commerce Times: What advantages do you gain by having the ability to constantly evaluate the metrics that are coming in on a particular campaign?
Haas: Metrics is the backbone of all of our online demand-generation campaigns. We've tied both online and offline campaigns into a single metric source, so we can take a view of any campaign and its return, so what we're able to do is measure the effectiveness of online vs. offline.
We can also measure the effectiveness of every single individual campaign, so that we can instantly make adjustments on the fly if it needs change or based on the information that we're getting. So it allows us to manage the business in real-time mode. In many cases, in a non-intra/Internet environment, it takes a little while to get that feedback, and you cannot be as proactive as we can in this environment.
E-Commerce Times: Should an online advertiser choose many sites on which to advertise, or spend the same amount for a larger buy on one site?
Haas: I think what HP has done is truly created a balance between the two [approaches] you've just articulated. We really want to hone in on the areas that provide us with the best-qualified leads and/or provide information to the customers we're trying to reach. What we've historically seen is that our consumers go to as many as seven different sites before they actually make a decision. So we need to have a good balance, but at the same time, we'll be relatively focused on the handful that can deliver the best results.
E-Commerce Times: What are the biggest challenges of marketing via interactive media?
Haas: I think the good news is that we've gotten over the dot-com hysteria. It has certainly become a lot easier to understand who are the real players that are left standing, and that has helped us significantly in honing our skills to focus on a handful of partners that will deliver results for us.
Internally, the thing we need to do, and we've done a good job of it, is get all the constituencies aligned and understanding how best they can utilize this vehicle as a means [to] reach their customer in a very economical fashion. I think some of that internal education took a little time, but we've gotten there, and we feel very comfortable with [our] position.
E-Commerce Times: How well suited is the Internet for branding campaigns?
Haas: I think the Internet, in many cases, is the first place the customer has experience with the company, so the Internet plays an enormous role in how the actual brand gets presented to the customer. The more consistency between the online [and] offline [campaigns], the better we present ourselves as a single company.
E-Commerce Times: How well suited is the Internet for lead generation?
Haas: The Internet is very well suited for lead generation. Our enterprise area of the site is tailored toward our solutions, partners and enterprise customers. We have live check capabilities that allow us to engage with our customers while online in real-time, and the feedback we received from customers is that this was an enormous help for them. For example, [in October] we generated up to US$120 million worth [of leads] just in one area of the site. It's a very important, very key part of our business, and we have multiple go-to-market partners that we engage with, all of which want to make sure that as customers come to us, we're able to serve them as best as possible.
E-Commerce Times: What advantages have you gained through running a banner ad campaign?
Haas: There are a couple of key advantages. Obviously, the first is mindshare…. The presence of HP is visible. We certainly need to do that in the areas of the Internet that have a high influence on the information technology sector. [Also, we've] … embedded banners within the HP.com site itself. [This] has allowed us to do deep analytics and transform the site into a data-driven [one, making] changes based on what our customers' behaviors are. We have seen our conversion rate increase significantly by improving our ability to place the right content in the right contextual links on the various different pages of HP.com through banners, and also through the analytics that follow it.
E-Commerce Times: What pitfalls should an online advertiser avoid?
Haas: I think we should tie it back to a few of the comments we made earlier. I think, having done this for a number of years now, you want to ensure that you are able to truly measure the success of any online campaign you drive, and to truly understand who the customer is and the profile of the customer that you're trying to reach, and if you're able to clearly target that segment with a precise message and a clear call-to-action and [then] in a real-time fashion measure the actual success of the campaigns. That gives you a formula where you know that the program in and of itself will succeed.
E-Commerce Times: Based on the experience you've had with Web marketing thus far, what does the future hold for online advertising — both in terms of strategy and technology trends?
Haas: The advice I would give is that Web marketing is no longer a pay-for-clicks model. The wave that's coming [involves] all the eyeballs that one destination site might have — and how does it translate into facilitating the message and the brand value and the value proposition that HP wants to that audience?
Obviously, the more interest there is for the end-users, the easier it is to manage and the more successful the program will be. So again, it's going back to the notion of clearly understanding the customer segmentation you're going after and the profile you're trying to reach. [You need] assurances that the partner has the ability to provide that kind of an audience to you.
From a technology standpoint, I think that the partners we've succeeded with are those [with which] we've been able to link our technologies, such that from a content management standpoint we're able to, in a real-time fashion, share information and then propagate it and/or render it on their sites instantaneously. The more you enable a direct link between the partners, the more you create an environment where the content is fresh and dynamically generated.
E-Commerce Times: What advice do you have for a company starting to plan a new online advertising campaign?
Haas: I don't think anyone should stop experimenting. We specifically have had some examples where we've had a similar campaign but we have presented it to the audience in two or three different fashions. Because we have the ability to do analytics behind the scenes, we very quickly determined which one had the biggest impact for us and which one drew the greatest attention from the online users. That way you keep honing your skills, you keep finding out what the customers are looking for, what it is that draws a call to action.