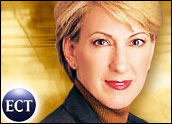 Palo Alto, California-based computer manufacturer Hewlett- Packard (NYSE: HWP) announced an agreement Wednesday to provide e-tail giant Amazon.com (Nasdaq: AMZN) with 90 percent of its computer hardware and related systems.
As part of the deal, Amazon will use HP Internet servers and storage technology to power the bookseller's Web site, support its distribution systems, and handle its supply-chain management. HP will also provide infrastructure support services to ensure that Amazon's systems work effectively during "peak e-tailing sessions," as well as provide PCs for Amazon's employees to use at work.
According HP, the size of the deal instantly makes Amazon one of the company's top five customers. HP reported revenues of $42.4 billion (US$) in 1999.
The big losers in the new arrangement are Sun Microsystems, Inc. and Compaq Computer Corporation, which currently handle the computer needs for the online bookseller.
"We went through an exhaustive process and selected HP as our primary IT infrastructure partner because we believe in their superior technology and support," said Joe Galli, president and COO of Amazon.com.
HP Anchors Amazon's Electronics Store
In addition to providing Amazon with equipment, Hewlett-Packard will become an anchor tenant in Amazon's electronics store, providing Amazon's 20 million customers with a more extensive selection of HP products.
"Today's announcement is a `win-win-win' for Amazon.com, HP and our customers," said Amazon founder and CEO Jeff Bezos. "HP's always-on infrastructure enables us to offer customers the best shopping experience."
According to Carly Fiorina, president and chief executive officer of HP, "Each agreement — for infrastructure and for retail products — is strong in its own right, but together they represent a powerful strategic partnership."
More Bad News for Sun
Losing Amazon's business is not the only bad news that Sun Microsystems has recently received.
On May 25th, U.S. District Judge Ronald Whyte issued a ruling tentatively denying Sun's claim for $35 million in damages stemming from the company's breach-of-contract dispute with software giant Microsoft.
At issue is whether Microsoft deliberately made a portion of Sun's Java programming source code available on the Redmond, Washington-based software giant's Web site, or whether the distribution, as Microsoft contends, occurred unintentionally while lower-level employees were performing an automated copying process during test releases of the company's Software Development Kit for Java 2.0.
Under the terms of a 1996 licensing agreement, Microsoft is only liable for damages if Sun can prove that a Microsoft "officer, director, or general manager" intentionally or willfully released the source code to the public.
In his decision, tentatively granting Microsoft's request for a pretrial summary judgment, Judge Whyte said that Sun's argument "fails to raise a genuine issue of fact" and invited both parties to submit additional information to support their claims.
A final hearing on the remaining summary judgment motions was set for August 11th.