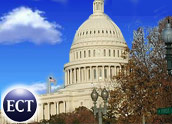 Hewlett-Packard's CEO and former Chairman were grilled by members of Congress Thursday on their part in the now infamous investigation into boardroom leaks at the computer maker, but the company may have escaped the embarrassing public grilling without any further damage to its corporate reputation.
In fact, HP shares moved higher Friday morning, after the company announced it would buy high-end gaming computer maker VoodooPC for an undisclosed sum with apparent plans to use the purchase to create a stronger lineup of gaming-ready machines.
Facing the Music
On Thursday, however, CEO Mark Hurd and former Chairman Patricia Dunn were in the glare of public attention as they testified to Congress. Their testimony took on added importance after 10 would-be witnesses — including HP's top lawyer, who resigned hours before appearing before the panel — pleaded the Fifth Amendment and refused to answer questions to avoid self-incrimination.
The HP executives faced a skeptical group of lawmakers, several of whom used their opening remarks to state that they felt that pretexting, the tactic of falsely claiming to be a person in order to obtain their phone records, was already illegal because it represented fraud.
Pretexting has emerged as one of several tactics used by the investigators trying to determine who on the HP board was leaking information to the press. HP and an investigative firm also used tracing software, sent to reporters and others, hidden in e-mail messages.
"It was an operation that would make Richard Nixon blush," said Rep. John Dingell, a Michigan Democrat. Addressing Dunn, Dingell asked: "What were you thinking?"
The Congressional committee reserved the right to recall some HP witnesses, but is more likely to move on to tackling the issues raised by the case, including whether to pass legislation to overtly outlaw pretexting.
Focus Shifts From Congress
As a result, attention may now turn to the ongoing criminal and civil investigations under way. The California Attorney General's office has said several times that it could be just a matter of days away from filing criminal charges.
Already, the boardroom investigation scandal has led to six resignations — three from HP board members and three from employees, including the head of security and chief counsel Ann Baskins, whose negotiated severance package HP said Wednesday was worth more than US$4 million in stock options and other benefits.
For his part, Hurd told lawmakers that he accepted responsibility for letting the internal inquiry spin out of control and for the fact that the "HP way" was ignored when the company acted in a manner that was deceitful.
Hurd also claimed to know little of the day-to-day details of the investigation, saying his main priority since taking over early in 2005 was to help steer the company. "I pick my spots where I dive into details," he said.
More attention was given to Dunn, who as Chairwoman of the Board was seen as responsible for the investigation, though she told lawmakers the details of it were handled by HP's legal counsel and an outside security firm.
Dunn again reiterated the need for the inquiry, emphasizing the need to retain board "integrity" and to ensure that board members can speak freely in closed-door meetings without fear of having their comments appear in the media. She also was seen deflecting culpability to third parties for the specific techniques employed. "I deeply regret that so many people, including me, were badly let down by this reliance on the expertise of others," she said.
Lessons to Be Learned
Many analysts now believe the best case for HP would be a quick resolution to outside investigations so that the company can turn its attention back to its ongoing turnaround.
Meanwhile, some already see lessons for other public corporations in how to conduct themselves.
Other companies that investigate employees — a common occurrence for a variety of reasons — need to "immediately clarify their practices in this area," Gartner analyst Martin Reynolds said.
So far, HP's day-to-day operations — and its stock price — have been insulated from the scandal, and it appears that will continue to be the case, he continued. That, however, doesn't mean there's not potential harm to other companies that find themselves in similar predicaments.
"The case has exposed the ugly side of corporate investigative practices, and the serious legal, regulatory and reputational consequences these practices can have," Reynolds claimed. He added that "more and deeper scrutiny of corporate practices that affect personal privacy" will likely result, forcing boards to become more vigilant.