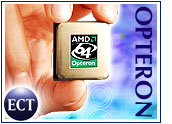 Hewlett-Packard said Tuesday it will introduce a line of servers preloaded with Advanced Micro Devices' Opteron chips, making it the latest major computer vendor to back Intel's top rival.
HP's move comes on the heels of decisions by IBM and Sun Microsystems to begin shipping machines with Opteron processors.
Shifting Sands
All of the major vendors have remained loyal to Intel as well. HP, which backed Intel's Itanium chip from the start, recently announced plans for a new line of 64-bit Intel servers to hit the market this summer.
Still, analysts see increased adoption of Opteron as a reflection of AMD's growing position of strength in the move toward 64-bit architecture.
"HP sees that AMD is gaining traction, especially from a price perspective," IDC analyst Jean Bozman told the E-Commerce Times. "They cannot afford to remain exclusively loyal to Intel if it means they might lose market share over time."
Fast Friends
In this latest announcement, HP and AMD announced a multiyear deal that calls for the two companies to work together on purchasing, marketing and technology. Financial details of the deal were not disclosed.
HP said it is making two Opteron servers immediately available: the ProLiant DL145, which has two processors, and the four-processor DL585. The company also plans to roll out a line of blade servers later this year with Opteron chips installed.
HP vice president Brad Anderson said the move reflects HP's desire to give customers "the broadest choice of industry standard-based platforms to meet their evolving business needs."
AMD the Big Beneficiary
IDC's Bozman described the move as a way for HP to hedge its bets, but added that it stands to be a clear-cut win for AMD. After all, HP is among the world leaders in terms of server units shipped per year.
Meanwhile, rival Dell said last week that it has no plans to begin making enterprise products loaded with AMD chips. The company said it has not heard that request from its customers.
"If you add HP to IBM and Sun, it starts to become an impressive list," Bozman noted.
The Big Mo
For his part, AMD vice president Marty Seyer said HP's decision "confirms AMD's momentum in the enterprise."
There is little doubt that Intel is noticing AMD's gains. At its annual developer's forum earlier this month, the number-one chipmaker disclosedplans to begin outfitting its existing 32-bit processors with 64-bit extensions — a move analysts said reflects growing concern about AMD's move into the 64-bit realm.
"I think everyone in the industry recognized the shift to 64-bit would happen, but how long it would take to catch on was the only question," Gartner analyst John Enck told the E-Commerce Times. "Now, even a short head start is turning a lot of heads toward AMD."
Making Up Ground
AMD may view its several-month lead in the 64-bit race as a way to close the gap between itself and Intel. The company announced last November that it would invest more than US$2 billion to outfit a German fabrication plant to help meet rising demand for its new Opteron family of processors.
Also, AMD has managed to claw its way out of the deep trough it fell into during the tech downturn, finally ending a nine-quarter stretch oflosses with a strong fourth-quarter 2003 profit. The company credited the Opteron chip with helping drive the turnaround.