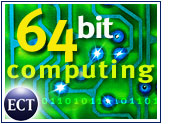 The Intel Developer Forum (IDF) commenced Tuesday with a statement that Intel will outfit its 32-bit Xeon server and workstation processors with 64-bit extensions. According to the company, this technology will become available in the second quarter of 2004.
"Offering a broad lineup of solutions means that, when combined with the Itanium processor family, which is designed specifically for business-critical high-end server and technical computing market segments, we can provide leadership solutions from top to bottom in a variety of 64- and 32-bit configurations," Intel CEO Craig Barrett said in his keynote address at the gathering.
Itanium Top Priority
Barrett also praised his company's 64-bit Itanium chip, which, despite struggling in the marketplace, has been deployed at many Fortune 500 companies.
"Acceptance of the Itanium processor in key areas, such as the financial services industry, is extremely gratifying," he said. "More and more firms in a variety of industries are realizing the performance, reliability, scalability, manageability and other benefits of Itanium-based platforms."
However, industry analyst Rob Enderle told the E-Commerce Times that although Intel's R&D is weighted toward Itanium, it is not a 64-bit world yet. According to him, the transition to 64-bit probably will take at least five years as applications are rewritten and deployed for this architecture.
"Keep in mind, we still have 16-bit programs sitting around a decade [after the transition to 32-bit processing]," he said.
HP Offers Support
Itanium codesigner HP expressed its support for the Xeon 64-bit extensions in a concurrent press release issued Tuesday. In that statement, HP pledged support for Intel's stated technology road map and announced plans to offer servers based on what it called two complementary architectures — both Itanium and Xeon.
"From a customer perspective, this is all about choice and our support for industry-standard architectures," said Shane Robison of HP. "Building upon HP's rich history of innovation with Intel across the IA-32 and Itanium processors, we will offer customers the best performance, availability and scalability in the market."
For his part, Enderle noted that because HP codesigned the Itanium architecture — viewed by many industry observers as a technology that has fallen far short of its market potential — it was important for the company to appear connected to Intel's latest announcement regarding 64-bit Xeon offerings. The Xeon announcement, after all, could be viewed by some as backpedaling in light of AMD's highly successful Opteron 64-bit architecture.
Questions About Release
Indeed, Intel's Xeon announcement comes several months after rival AMD released its Opteron chip, which — unlike Itanium — handles both 32- and 64-bit processing.
Whether or not Intel's 64-bit Xeon offerings eventually sell well, Enderle noted that AMD will retain an obvious market advantage until the new chips ship commercially. Currently, the improved Xeon chips do not exist except as specifications, and no one can benchmark their performance against Opteron processors.
Enderle also expressed skepticism about Intel's ability to make the new Xeon chips available on schedule. "It is a very fast roll for [Intel], and the likelihood is that it could take longer than what they are predicting," he said.
Worst-Kept Secret
Intel spokesperson Tom Beerman told the E-Commerce Times that because of the nature of the IDF, Barrett did not provide specifics about release dates, pricing or availability. However, he did confirm the modified Xeon chip will become available during Intel's second quarter, which runs from April 1st to June 30th.
"The main issue for us is that we saw customer need [for this configuration] and decided to make sure we met these needs by offering a full complementary range of processors [that work with everything], from low-end, entry-level servers to 64-bit mainframes doing large-scale, heavy-duty computing," Beerman said.
As for questions about whether Intel's decision to offer 64-bit extensions for its Xeon processor represents an about-face for the company, Beerman said industry observers have been expecting this development for some time.
Indeed, he noted, "Craig Barrett said it best: It was the worst-kept secret in San Francisco."