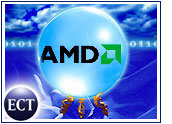 Buoyed by a wave of consumer demand for personal computers, number-two chipmaker AMD's business turned profitable during the last quarter of 2003 for the first time in more than two years.
AMD said it earned about US$43 million in the fourth quarter, a dramatic turnaround from its year-ago loss of $854 million. Revenue reached $1.16 billion, slightly below year-ago levels. Both profit and sales figures surpassed Wall Street expectations.
The Sunnyvale, California-based company, which had been lagging behind market leader Intel in its ability to claw its way out of the tech doldrums, had not posted a profit since the second quarter of 2001.
AMD CFO Robert Rivet attributed the turnaround to "solid sales growth across all business lines."
Joining the Party
Meanwhile, cell phone equipment maker Motorola joined the growing list of technology firms outpacing Wall Street estimates. Motorola earned $893 million, compared with a loss of $2.5 billion a year ago, as sales rose to $8 billion, an increase of 4 percent. The only cloud marring the company's report was that its cell phone division underperformed.
Lucent Technologies did its part to keep the tech tide rising, too, with a strong report Wednesday. The company recorded its second straight profitable quarter as revenue rose nearly 9 percent over last year to $2.26 billion. Lucent earned $338 million, compared with a loss of $264 million at the end of 2002.
Back from the Brink
Despite a slew of earnings announcements, the turnaround of AMD's fortunes was the standout story. In a conference call, AMD CEO Hector Ruiz said the results highlight what he calls "the new AMD."
"This quarter proved we can deliver on the promise to sustainable change," he said.
AMD said its Athlon XP and Opteron processor lines were the biggest success stories of the quarter, with the new Athlon 64 racking up an impressive list of customers — including HP, eMachines and Fujitsu — and landing trade press awards for its performance.
The high-end Opteron line also won several large enterprise customers in the quarter, including DaimlerChrysler, Qualcomm and Bristol-Myers Squibb. AMDalso announced it will work with Sun Microsystems to build Sun servers loaded with Opteron processors.
Citing typically cooler first-quarter seasonality, AMD said its overall Q1 sales likely will be flat or down slightly compared with the fourth quarter.
Surge Protector
IDC semiconductor analyst Shane Rau told the E-Commerce Times that AMD has benefitted from sharply rising sales of PCs to consumers.
"The backlog of inventory of chips that was out there has finally been worked through, and customers started ordering new shipments and asking about the next-generation chips," Rau said.
Customers of AMD, Intel and others now are looking to restock depleted inventories, with an eye on keeping costs low while also ensuring they have the latest technology at hand.
"Equipment makers want to be in a position to capitalize on the sales surge and to be ready if enterprises jump in and start buying in large numbers as well," Rau added.
Ship Shape
For his part, UBS Warburg analyst Thomas Thornhill said AMD used the downturn to tighten its operations significantly, which helped it execute well as customer activity picked up. New investment in modern chip plants and joint ventures to promote its flash business also could help the company as the market expands, Thornhill said.
"Smart companies in the chip industry work hard in the slower times and reap the benefits when the cycle is at their back again," he told the E-Commerce Times.