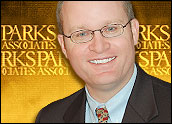 Blockbuster and Samsung recently announced that Blockbuster OnDemand will be available on select connected HDTVs, Blu-ray players, and home theater systems starting in the fall of 2009. Samsung will offer connected Blu-ray players and home theater systems with both the Netflix and Blockbuster online services; however, announcements from Blockbuster indicate that Blockbuster OnDemand will have "preferred positioning" on the Blu-ray devices.
Adding these services should help boost the connected CE market — or at least provide additional data to indicate its current direction. Right now, the industry should fear being branded a novelty, with status akin to a kid's Christmas present. If the product lacks compelling content (day-and-date availability and high-definition, ad-supported television episodes, etc.), consumers may play around with a widget feature or download a movie in the first couple of weeks but quickly grow tired of the device. It's happened to me. I get a new device, get it to work (sometimes), and play with it for a couple of weeks until the "newness" is gone. Will the same thing happen to connected devices?
Avid Netflix subscribers might find a connected device that streams select titles to the TV to be a nice complement to their Blu-ray and DVD rentals. However, given that consumers already have multiple options for watching current releases — from Netflix and Redbox to their cable operator's high-definition offerings — will they find any use for connected devices, or will this product category fade as a short-lived novelty? There are a few questions this market must answer positively in order to avoid the latter fate.
Critical Questions
Are Current Titles Available? The list of titles available at online offerings should be comparable to the rental options of the current DVD or Blu-ray releases found at Blockbuster or Redbox. If there is a relatively close match, then online services could tip the scales in their favor through the mere convenience of their offerings — viewers don't have to wait for the mail or trek to a rental store or kiosk. The kiosks are everywhere, sure, but if it's summer in Dallas or winter in Minnesota, it doesn't matter how close Walgreens or McDonald's is — it's either too hot or too cold to go anywhere! So, title availability is important in order to the convenience benefit to have its full effect.
Is High-Definition Content Convenient to Access? Based on my experience with the VUDU box, download of an HD movie can take several hours, even with a high-speed FiOS broadband service. At that rate, it's more convenient to make the drive (even in the snow or heat) to the video store or rental kiosk.
When Will Episodes From Premium TV Shows Be Available? Cable, satellite and IPTV providers aren't going to sit still and lose their bread-and-butter TV revenues to online sources. Their current strategies are to leverage a big catalog of free on-demand content to complement their many cable offerings.

They're also ramping up their online offerings of on-demand prime time shows to provide even more access to this programming. The connected CE folks are at a disadvantage here because there is no model yet for streamed and ad-supported current television programming to the TV. They can certainly go the download route (although this is not going to be a big market at all … why download to the TV when over 80 percent of U.S. homes have pay TV and have additional access options via DVR and VoD?). They can also provide large selections of older content, which should not be dismissed. Look at Veoh Network's lineup of classic TV programs. Even without HD, you should never underestimate the appeal of The A-Team.
Wanted: Data
At the Connections conference in June 2009, panelists in the session "Connected TV Strategies" session tackled the problem of brining streams of current ad-supported television programming to connected devices. All speakers were essentially in agreement that in order to convince owners to release more of their content in an ad-supported format, the industry need to provide consistent measurement and analytics to the programmers.
Without these data, there are still plenty of questions about the true audience size for any given episode, which has implications for the allocation of ad dollars. The panelists (representing AnySource, IBM, Vizio, and Yahoo) all acknowledged that this is a difficult problem to solve, and the market is still some time away from seeing consistent measurement applied to online video usage. So, offerings and services for connected TVs are still largely relegated to transactional downloads, older streams, and not-so-current TV offerings, which puts them at a disadvantage against current, more traditional services, including disc sales, rental services and cable services.
As the connected TV market takes shape, these three areas — content availability, high-definition support, and metrics and reporting — will be the most important factors in determining its future success or failure.
---
Kurt Scherf
is a vice president and principal analyst at
Parks Associates
.
---